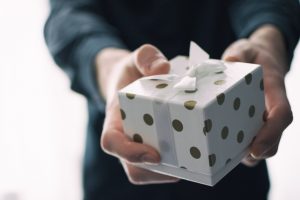 In the multifamily industry, we often think of apartment community residents in the collective.  However, these communities comprise of individuals with diverse lives, unique personalities and a broad range of hopes and dreams – just as any other group of people does.  When we think of our residents in this way, we can better consider the impact appreciation can have on them and their lives.
The truth is that we all desire and sometimes even need to be appreciated, to be recognized, to know that we matter.  It's a part of the human condition to want that warm and fuzzy feeling we have when we know somebody cares!  In fact, an important part of community building is expressing and encouraging gratitude and appreciation.  So what can property managers and owners do to endure their residents feel that way? 
We've compiled a list of ideas and strategies designed to help get your creative juices flowing, but first, how about adopting an attitude of gratitude?
Designate a Yearly Resident Appreciation Week
Find a time of the year that is not crowded with commitments and plan a unique act of appreciation for each day that week in honor of your residents.  Sample activities for your week:
- Advertisers -
Snack bag giveaways to residents

A small plant and note left at each resident's door

A fair for the children with bouncy house, cotton candy, donkey rides

A Saturday or Sunday afternoon cookout with outdoor family games

After-school candy throw with employees tossing hard candies

Morning coffee and doughnut stations at the apartment community exits

A local band performance on a weekend night
Pay Attention to Their Needs
Ensure the staff recognizes and accommodates any special needs of residents
Conduct Monthly Birthday Parties
Designate a particular day and time (i.e. the first Sunday at 4 p.m.) for residents to gather for cake in honor of all resident birthdays during that month.  Present a birthday card to each honoree.  Mail cards to those unable to be present.  For some residents, your card may be the only recognition of their birthday.
Honor Their Passions and Diversity
Survey your residents to find out their hearts' desires and design events featuring their unique talents and interests.  For example, have an art show showcasing crafts and works that residents have crated.  Ask each artist to share his/her story to post to your website or include in your newsletter.
Say "Thank You" in a Personal Note
When a resident does something kind for the staff, write a personal, handwritten note of appreciation.
Enlist Their Participation
Generously publicize all events for your apartment community so that no resident will be left out of the loop.  Make everyone feel included and welcomed.
Plan Calendar Celebrations
At the beginning of the year, flag special days, (Valentine's Day, Martin Luther King Day, Groundhog Day, etc.) and brainstorm with staff tactics the management team can put in place to commemorate these days for the residents.
Cater to the Kids
If you really want to do something nice for someone, pay attention to their children!  Invite the kids to participate in such fun and simple activities as sidewalk chalk drawing, outdoor games, pet shows and noise parades, (i.e. banging on pans, blowing horns, singing.)
Little Things Mean a Lot
Remember how important the little things are in creating a caring and appreciative culture.  Look your residents in the eye.  Speak with compassion and be alert to little things that you can do to make them feel that they matter.
Smile with an Attitude of Gratitude
A good attitude is contagious.  So are smiles!  Make friendly greetings a mandate for your employees and staff as a part of your commitment to serving your community.
Reprinted with permission of Multifamily Florida.
To read more articles from the December 2021 Issue of the AOA Magazine, click here.