Welcome to the August 2023 Apartment List National Rent Report. The rental market hit a big milestone this month, as national rent growth is finally negative year-over-year. This means that on average across the nation, apartments today are renting for less than they did one year ago. This marks a major deceleration from recent years, when annual rent growth neared 18 percent nationally and soared to over 40 percent in a handful of popular cities.
On a month-over-month basis rents continue to tick up, albeit slowly. Our national rent index increased by 0.3 percent over the course of July, but this monthly measurement of rent growth has already peaked for the year. Rent growth in 2023 has come in at a much slower pace than previous years, thanks to a combination of sluggish demand and increasing supply.
The supply side of the rental market also hit a major milestone this month: our vacancy index has reached 7.3 percent, surpassing the peak vacancy rate measured at the height of the COVID-19 pandemic. With a record number of multi-family apartment units currently under construction, this vacancy rate will remain elevated in the near future. For the first time since the early stages of the pandemic, property owners will compete for a smaller pool of tenants instead of the other way around.
Rents increased modestly in July in 71 of the nation's 100 largest cities, but thanks to sluggish rent growth throughout the past 12 months, prices are down year-over-year in 67 of these 100 cities.
The Rental Market Slowdown is Finally Reflected in Inflation Numbers
The primary measure of inflation in the United States is the Bureau of Labor Statistics's Consumer Price Index (CPI), which is heavily influenced by changes in housing prices.1 The Apartment List National Rent Index has proven to be a strong leading indicator of the CPI housing and rent components, as we capture price changes in new leases, which eventually trickle down into price changes across all leases (what the CPI measures). Because of these methodological differences, when our index peaked with record-setting rent growth in 2021 (+17.8 percent), the rent component of CPI was still just starting to heat up, even as overall inflation had already become a key economic issue for policymakers and everyday Americans. Now in 2023, our index shows that the rental market has been cooling rapidly for a year, but the CPI housing component has just recently hit its peak. Despite the CPI's measure of housing inflation remaining elevated, topline inflation has already meaningfully cooled. As the CPI housing component now gradually begins to reflect the cooldown that we've long been reporting, it will help to further curb topline inflation in the months ahead.
- Advertisers -
Rents Nationally are Up 0.3% Month-Over-Month, But are Down 0.7% Year-Over-Year
July is the peak moving season and a month where we typically measure some of the fastest rent growth each calendar year. In pre-pandemic years, July rent growth averaged 0.6 percent. But in 2023, July rent growth came in at just 0.3 percent and is trending down for the season. This stagnation indicates that the market cooldown that started in the second half of 2022 is continuing, even as prices rise modestly month-over-month.
On a year-over-year basis, national rent growth is negative for the first time since the early pandemic. The last time this occurred was from mid-2020, when rental markets were reeling from a dramatic reduction in household formation and dense urban cores, in particular, experienced a sharp decline in demand for apartments. Seasonal trends suggest that monthly rent growth will continue to slow for the remainder of the year, so it is likely that annual rent growth will sink further into negative territory in the months ahead.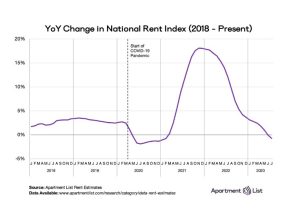 Year-to-date, rents are up by a total of 2.6 percent and are trending slower than every previous year measured by our index, aside from 2020. From 2017 to 2019, rent growth from January through July averaged 4.3 percent, and during the rapid inflationary period of 2021 and 2022, it averaged 9.4 percent. But this year, prices are being kept in check by sluggish demand as well as a robust supply of new inventory hitting the market. The surging rent growth we observed in 2021 and early-2022 is now solidly behind us.

Apartment Vacancies Have Surpassed Their Pandemic Peak
As we've explored in detail, the rapid price fluctuations that have rocked the rental market over the past three years are largely attributable to changes in apartment vacancies. Early in the pandemic, the Apartment List Vacancy Index spiked above 7 percent as many Americans consolidated households and moved in with family amid large job losses and economic uncertainty. Then, a suddenly-tight rental market drove rapid rent growth in 2021 and 2022 as more households were competing for a dwindling supply of vacant units. Our vacancy index shrunk from 7.2 percent to 4.1 percent in just over a year.
But after bottoming out in October 2021, our national vacancy index has been easing steadily for over a year and a half, and the rate of easing has picked up steam since last summer. In 2022, our vacancy index inched up an average of 14 basis points per month, but so far in 2023 the average increase has been 20 basis points per month. In July, the vacancy rate reached 7.3 percent, surpassing for the first time the pandemic peak set in July 2020.
This easing has shown no signs of slowing, and it's likely that the vacancy rate will continue to trend even further upward in the months ahead. New apartment construction is recovering from pandemic-related disruptions, and there are now more multifamily units under construction than at any point since 1970. As this new inventory continues to hit the market over the course of the year, we are now entering a phase in which property owners are beginning to compete for renters to fill their units, a marked change from the prevailing conditions of the past two years, in which renters have been competing for a limited supply of available inventory.
Vacancy trends are highly localized, and they have been a key indicator of rapidly evolving conditions in local markets across the U.S. throughout the pandemic. To explore the topic in greater detail, monthly vacancy data are now available for download for hundreds of cities, metros, and states, and can be easily linked to our existing rent estimates using Federal Information Processing System (FIPS) codes.
Rents Rise Month-Over-Month in 71 of 100 Largest Cities, but 67 Have Seen Prices Fall
Year-Over-Year
Rents increased this month in 71 of the nation's 100 largest cities, but for the most part these July rent increases have fallen well below seasonal expectations. As a result, rents are down year-over-year in more than half of these large cities, and the number of cities falling into negative territory has grown with each consecutive month of data.
In early 2022, all 100 cities were posting positive year-over-year rent increases. The first to turn negative were the early "zoom towns" in states like Arizona, Nevada, and Idaho that surged in popularity in 2020 when much of the nation's workforce went remote, but saw a pullback in demand as affordable options dissipated and more jobs were called back to city centers. Since then larger cities have joined the trend, including much of California and the west coast, Texas, and the southeast. Currently the sharpest year-over-year decline can be found in Boise, ID, where prices are down 6.9 percent compared to last July.
The Sun Belt Cooldown Spreads
At the metro level, year-over-year rent declines are common across Sun Belt metros, topped by New Orleans and Phoenix, where prices are down 5 percent in the last year. But many other previously-booming markets are now seeing price drops as well: year-over-year rent growth in the Las Vegas metro once reached as high as 29 percent but now sits at -4 percent. Similarly in the Austin metro, where new housing is being permitted at the fastest pace of any large metro in the county, annual rent growth has fallen from a peak of 26 percent to -4 percent today.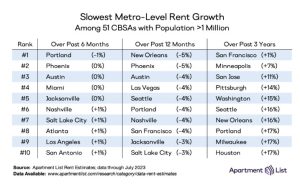 The Seattle, Portland, and San Francisco metro areas are also experiencing some of the nation's slowest year-over-year growth, signaling that the market downturn is not limited to just sprawling, high-growth metros. These denser markets were the ones that slowed first in 2020, and are slowing again today; all three rank in the top 10 for slowest rent growth over the past 12 and 36 months. San Francisco is the only metropolitan area where rents today are comparable to where they were at the start of the pandemic.
Midwestern Markets Have Seen the Fastest Rent Growth Over the Past Year
At the other end of the spectrum, the fastest annual rent growth has been occurring in metros across the Midwest and Great Lakes regions. Six of the top 10 are found here, topped by Chicago where prices are up 4 percent year-over-year.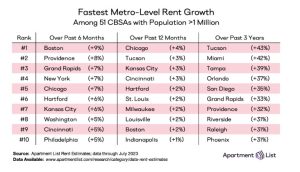 Of course, given the recent rental market cooldown, even the metros currently topping this list are experiencing relatively modest growth compared to what we observed at this time last year. In May 2022, every metro with a population exceeding one million logged year-over-year growth rates greater than Chicago's current 4 percent rate which is now the nation's fastest.

Conclusion
July's 0.3 percent national rent increase represents a further deceleration of the rental market, indicating that the market remains sluggish throughout what should be the busy moving season. Year-over-year growth slowed once again, this time falling below zero for the first time since early in the pandemic. Even if the end of this summer brings a resurgence in demand, a strong construction pipeline should temper rent growth for the remainder of the year.
For complete data, head over to our rental data page at (www.apartmentlist.com/research/category/data-rent-estimates) where you can download the most recent estimates for your city, as well as historic data going back to 2017. And as always, feel free to contact us with any questions!

Apartment List is an American online marketplace for apartment listings. In January 2018, Apartment List had over four million units on its platform. For more information, visit their web site at https://www.apartmentlist.com/.