As I have recently indicated, I don't really understand why the media has turned so bearish on the U.S. economy lately, and why so many forecasters are predicting we're either just about to enter a potentially nasty recession or we're already in one. But they are, and they've done a darned good job of convincing American consumers that a recession is upon us. Even the latest survey of CEOs shows a majority expect a recession next year, as I will discuss below.
I understand we've seen some negative developments in the economy this year such as inflation soaring to 40-year highs and a Fed which is likely to raise interest rates several times just ahead to fight it. And I understand measures of consumer confidence and sentiment have declined sharply in the last few months. Obviously, these developments don't bode well for the economy or stocks which have plunged over 20% in the last few months.
Yet I'm still not convinced a recession is inevitable just ahead or we're in one already as some forecasters are warning. Do I think a recession is coming? Certainly, at some point, but maybe not until next year in my view. I could be wrong, of course. For example, if the Commerce Department's first estimate of the second quarter GDP comes in negative at the end of July, then whamo – we are already in a recession and I'll be the first to admit I was wrong.
We all know consumer spending makes up over two-thirds of GDP, and consumers could throw us into a recession at any time should they get scared and put the brakes on discretionary spending. But is that happening? Not that we can tell based on the data we have. The latest data we have for consumer spending is for April, and it showed consumers were still increasing spending, even if modestly. Did that change in May and June? We'll have to see.
One thing is for sure, though: Our two best indicators of consumer confidence have fallen off a cliff this year, thanks to this very bearish backdrop painted by the media.  Unless this troubling trend reverses soon, then a recession, perhaps a severe one, is headed our way either late this year or in 2023.
- Advertisers -
My point is simply that I don't remember the public getting this negative this quickly in a long, long time. But it is happening as you'll see below. Let's look at the facts, put it all in perspective and try to decide if things are really as bad as the media would have us believe. Let's get started.
Strongest Economic Growth in Decades – What Changed?
We just came off the strongest year of economic growth in decades, with GDP soaring 5.7% last year. Admittedly, much of that growth was due to the country rebounding from the Covid-19 recession. With most government stimulus programs to boost the economy out of the recession having ended last year, it's not surprising GDP declined at an annual rate of 1.5% in the first quarter. The question is, where do we go from there?
Most surveys of leading forecasters show the economy growing by 2-3% this year, although a growing number of economists are dialing back their GDP forecasts for last-half 2022 and 2023 as this is written. Yet even with these haircuts, the consensus is the economy will grow at least modestly for all of 2022. Tomorrow, we get the government's third and final estimate of the first quarter GDP, and the consensus remains that the US economy contracted around 1.5% last quarter.
The big question is, what did the economy do in the current 2Q? Unfortunately, we won't get our first official read on the second quarter GDP until the Commerce Department releases its "advance" estimate.
Consumers Are as Pessimistic Today as I Have Seen Them
Despite the economy logging its strongest year in decades in 2021, and the stock markets hitting record high after record high, US consumers have turned decidedly pessimistic since then. As noted above, I believe this change in sentiment has been largely influenced by the media, but it is what it is. Take a look at the latest Consumer Confidence Index.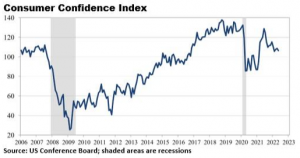 Consumer confidence had trended consistently higher since 2009 and the end of the financial crisis. Then Covid-19 came along in 2020 and surprised us all. Businesses large and small shut down across the country and, naturally, the economy fell off a cliff and went into a recession.
Fortunately, that recession was short-lived and the economy recovered strongly in 2021. Late in the year, however, consumer confidence started to fall again. Most analysts attribute that to the reality that inflation has soared to the highest level in 40 years, gas prices were spiking and the Fed started hiking interest rates and promised to continue however long it takes to get inflation under control again.
Our other widely-followed consumer confidence index, the University of Michigan Consumer Sentiment Index, looks even worse.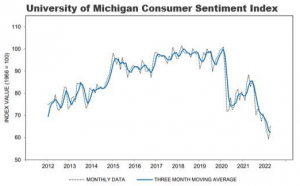 The University of Michigan Consumer Sentiment Index cratered to 50.2 from 58.4 in an early June reading. This landed below forecasts and marked the lowest level since regular data collection began in the late 1970s. Nearly half of surveyed Americans blamed sky-high inflation for their pessimism.
Nearly 70% of Economists and 60% of CEOs Predict Recession
A large cross section of the world's top economists predict the U.S. economy will fall into a recession later this year or next year, according to one survey. The survey, conducted by the Financial Times along with the University of Chicago's Booth School of Business, indicates that of the 49 economists surveyed, 68% believe a recession will occur in the US in 2023 if not sooner.
Meanwhile, fears of an economic downturn are growing among leading Fortune 500 CEOs, with some convinced the economy has already rolled over. The majority of Chief Executive Officers and other C-suite leaders across the globe believe their geographic region will enter a recession sometime in 2023, if not sooner, according to a survey from the Conference Board released earlier this month.
The business research firm found that 60% of CEOs expect the economy to contract in their primary area of operations in the next 12 to 18 months. Some 15% of CEOs say they believe their region has already entered recession.
This increasingly pessimistic sentiment among business leaders regarding the economic outlook comes as central banks around the world lay out aggressive plans to raise interest rates in a bid to quell multi-decade highs in inflation. In the US, the Federal Reserve recently raised interest rates by 0.75%, its largest increase since 1994, and a similar increase is expected next month.
The central bank's larger-than-expected rate increase prompted a wave of downwardly revised forecasts on Wall Street. Economists at Bank of America Global Research slashed their US growth forecast last week, and the firm now sees a 40% chance of recession next year.
Will Falling Confidence Lead to Decreased Spending?
While it's easy to conclude that sharply higher prices lead to lower consumer confidence, it is not so easy to determine if lower confidence will result in decreased consumer spending. Credit card data show consumer spending continued to rise in May, although at a slower pace than earlier in the year. This is true for both goods and services.
The question is, will consumer spending actually decline later this year? No one knows the answer for sure, but there are other signs consumers are feeling stretched. Subprime borrowers, for example, are falling behind on their car loans, according to S&P Global Ratings' tracking of bonds backed by the consumer debt. Delinquency rates rose to 3.82% in April, rising back toward 2019 levels, compared with 2.49% a year earlier, the ratings firm said in a report last week.
Inflation is taking a bigger bite out of incomes, forcing Americans to dedicate more of their spending to basics like food and gas and leaving less room for discretionary purchases. That's leading to higher inventories at Walmart and Target and other retailers, and also pushed the savings rate in April down to the lowest level since 2008.
While these are no doubt disappointing developments, and consumers are having to make difficult choices on how and where they spend their money, there is no evidence yet that consumers are actually cutting back on spending. That's not to say it won't happen in the months ahead, it just hasn't happened so far.
Bottom line: If we see consumer spending start to fall, that's the time to worry about a recession.
At the end of the day, it has been stunning to watch how fast the American public, economists, CEOs and others have turned so negative on the US economy just ahead. While the US economy turned in its strongest year of GDP growth in decades last year, the modest decrease of 1.5% in the first quarter was all it took to make the optimism disappear.
In conclusion, the U.S. economy still appears to be on solid ground, but if enough people believe we are headed into a recession just ahead, or are already in it, it could be a self-fulfilling prophecy. Put differently, we may be talking ourselves into a recession.
Hats off to the mainstream media for turning most Americans into pessimists!