Marketing can hit you in all sorts of different ways, from making you fearful, anxious, excited, or even empowered.  Great marketing fills the audience with a powerful emotion that leads to ultimately craving that product or service.  Today I would like to take you on a journey, starting with some unbelievable marketing and leading to a graveyard of uninspiring apartment listings.
My journey started off by seeing an absolutely wonderful example of marketing. 
(There is a debate on whether this is actual marketing or just a neat picture, but for now, we are going to assume this was actually marketing.)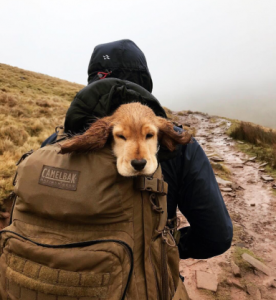 First of all, let me state what this picture is not.  It isn't a picture of a bag on a table.  It isn't a picture that shows off all the pockets, or somehow showcases how durable the material is.  There is nothing wrong with marketing that showcases features, but this picture is vastly more powerful, as it shows an aspirational vision of what it is like to live an outdoor, active, hiking lifestyle with your best friend.  It speaks to its audience in a way that doesn't just pique interest, but actually makes the audience yearn for the experience.  It's a glimpse of their best self, with the bag being a prominent part of that vision.  A bag sitting on a table can't provide that type of emotional response.
- Advertisers -
Similarly, one of the key things we teach in leasing is to help the prospect imagine living at the property.  For example, we start talking about their furniture so they begin mentally placing it in the apartment.  During the tour, we create a picture of them lounging by the pool on a warm day, the sun beating down on them as their cares and concerns drip off their fingertips.  We show them a future where they finally make time to hit the gym and forge that body they always want.  All the time, we are showing them the ideal version of themselves, and our apartment community is a key piece of that vision.
After seeing that hiking picture, my marketing passion was exploding, and I wondered whether apartment communities in my area were translating those leasing lessons into their marketing.  When I look through apartment listings, do I see visions of my best self?  The quick answer is no, I do not.
What I did was go to ForRent.com and look at listings in my area, the top 100.  And I want to clarify that just because I was disappointed in the results does not mean that quality marketing does not exist in our space!  In fact, I tend to hang out with unbelievably talented marketing pros all the time in the multifamily world.  So this is not an indictment of the skills we have in our industry!  I'm just noting what I saw when acting like a normal apartment hunter visiting an ILS.
I scrolled through the top 100 listings and categorized the primary picture for each listing: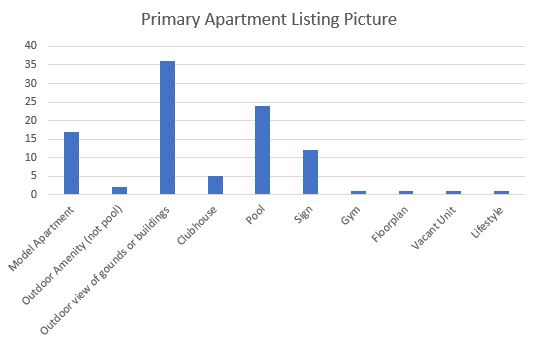 The first thing I want to point out is that only one (ONE!) listing showcased a lifestyle view, highlighting residents lounging in the pool.  Not only did it attempt to show me a vision of a life I might want, but it absolutely leapt off the page, both from a dynamic color perspective and as a comparison against all the other uninspiring images it was surrounded by.

Another picture that really caught my eye was a drone picture.  Not only did it have a property that really could take advantage of that type of imagery, but it was also the only picture out of the 100 that had a drone shot, which set it apart.
One other picture that I found interesting was actually of a closet!  It was staged in a way that worked to showcase they had large closets, which I'm assuming is a feature that really sets them apart from their competition.  So it did a good job of not only highlighting something that will drive interest, but it also stood out because it didn't fit the formula of the rest of the listings.
Unfortunately, my good impressions end just about there.  Of 100 apartment listings, only three left me with a memorable positive experience.  That's not to say all the pictures were ugly.  There were some pictures of perfectly nice buildings or outdoor spaces, but none of them evoked even the slightest bit of an emotional response.  None of them tried to make me a part of the story, and they clearly weren't trying to express a lifestyle that would help me see the perfect version of myself.  Instead, they were trying to sell a pretty building.  For example, compare the hiking picture above and the emotions that it evokes, compared to this:

A few other listings also caught my attention, but not for the right reasons.  I guess they would be dishonorable mentions?  The first example thinks that somehow a floorplan is going to drive leases:
The second picture that really made me stop scrolling down the page featured these two beauties:

In the end, I want to stress that I'm not saying that all ILS marketing is bad across the country.  Maybe the sample size around where I live happens to just be uncharacteristically depressing.  But I think this issue is probably fairly widespread because of how we often choose our marketing pieces.  This is just a theory, but my guess is that when people decide to choose the primary picture for their property, they are doing it in a vacuum.  They are looking through the pictures they have of the property and try to find the prettiest one.  And frankly, they may be right, but it does not account for the context of where they are posting.  They are right alongside dozens of other properties doing the exact same thing, and if that relationship isn't taken into account, a community runs the risk of selecting a picture that blends into the background, that doesn't inspire, and just checks off a box.  And in competition among your rival comps, the last thing you want to do is camouflage yourself with uninspiring marketing.
What do you think?  Am I being too harsh?  Is there a hidden brilliance in using a picture of a washer and dryer that I'm not seeing?
Reprinted with permission of Multifamily Insiders.  Multifamily Insiders was created to provide the first true online networking group for the multifamily industry and its partners.  For more information, visit www.multifamilyinsiders.com.