Although nationwide one-bedroom apartment rent has nearly returned to the January 2017 mark of $1,016 — after a March low point of $1,003 — in certain cities, rent prices have been more volatile, according to a new release from Abodo.com.
"When it comes to the most expensive markets in the country, the usual suspects make up the top three — San Francisco, New York City and San Jose," he said.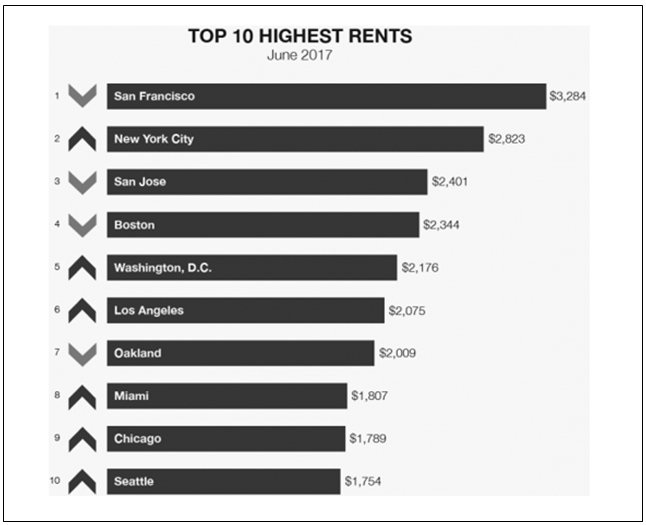 Most Expensive Apartment Rent in the West
"It's not a surprise that some of the most expensive rental markets across the country are, once again, in the West," Radbil said.
- Advertisers -
"Specifically, more than half of the top ten most expensive markets are out West, including:
San Francisco
San Jose
Los Angeles
Oakland
Seattle
Santa Ana
San Diego
Long Beach
Portland
Denver
Sacramento and
Scottsdale
Increases in Rent
Reno, NV (8.8%), makes only its second appearance this year in our top 10 biggest rises, while Greensboro, NC (5%); Rochester, NY (7%); Riverside, CA (6%); Toledo, OH (5.3%); Dallas, TX (5.1%); and Richmond, VA (5%), are all making their 2017 debut.
Decreases in Rent
All of the decreases going into June 2017 were on the smaller side, lead by Buffalo, NY. Rents in Buffalo fell just 4%, from $1,054 to $1,012. Virginia Beach, VA, is continuing its streak of small monthly decreases, down 3.5% this month.
Three California cities — Fresno (-3.5%), San Jose (-3.3%), and San Francisco (-2%) — also received well-deserved rent decreases going into June, which brings San Fran's median one-bedroom rent down to just $3,284.
Nonetheless, San Francisco still boasts the highest rents in the country.
RentalHousingJournal.com, an interactive community of multifamliy investors, independent rental home owners, residential property management professionals and other rental housing & real estate professionals, is the most comprehensive source for news and information for the rental housing industry. This website features exclusive articles and blogs on real estate investing, apartment market trends, property management best practices, landlord tenant laws, apartment marketing, maintenance and more.  Reprinted with permission.