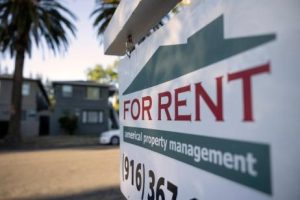 Most renters know securing housing isn't as simple as finding the perfect place. California's renters must save up thousands of dollars to provide security deposits that can legally be as much as two months' rent, or three months' for furnished units.
Add in the requirement that renters put up the first month's rent before they can move in and low-income families are most likely to give up hope of finding a home. The state Assembly on May 22 passed a proposal that could change that.
A Break For Renters?
Assembly Bill 12 would limit security deposits to one month's rent, regardless of whether a unit is furnished or not. If the bill passes and gets Gov. Gavin Newsom's signature, California could become the 12th state to limit security deposits.
"Security deposits present barriers for people to move into apartments, which can lead them to stay in apartments (and) in homes that are too small, crowded or even unsafe," said Matt Haney, the Democratic Assemblymember from San Francisco who authored the bill. "In other cases, people take on debt or financial burden that leaves them unable to afford other necessities."
Haney said the bill has attracted widespread support in the Assembly, including from lawmakers who are landlords as well as labor organizations representing teachers, nurses and grocery store workers.
- Advertisers -
Assemblymember Diane Dixon, a Republican from Newport Beach, was among the Nos in the 53-14 vote. She cited concern about the bill's potential to reduce the housing supply.
"The more we over-regulate people's ability to offer a successful product, the scarcer it will become," she said in a statement. "Landlords charge security deposits to cover potential damages and any unused funds are returned to the renter."
Like a Downpayment
Haney said the issue caught his attention when a janitor in his district described living with his wife and three children in a one-bedroom apartment.
"He wanted to move into a larger unit so his kids didn't have to sleep in the same room as him and his wife," Haney said. "He said he could afford the rent, but he couldn't afford the deposit and first month's rent to move in. Unfortunately that's not an uncommon situation."
In California, the median rent for a two-bedroom apartment is $2,538 and for a three-bedroom home is $3,795 according to Zillow. For a $3,000-a-month unfurnished unit, a landlord can charge as much as $9,000 for a security deposit and the first month's rent.
"People are being asked to pay the equivalent of the down payment of a home in many parts of the country just to move in," Haney said. "It's really untenable."
Tina Rosales, housing attorney and policy advocate with the Western Center on Law & Poverty, said the bill could help fight homelessness.
She came across a San Francisco apartment that called for $10,000 up front, including a security deposit, first month's rent and fees.
"That's a lot of money for anybody," she said, "but especially for low-wage workers, and particularly for Black, Latin and indigenous households. No one can afford market rate housing, plus first, last and two months of security deposits, on top of other excessive fees landlords are permitted to charge."
Alternatives to Security Deposits
Debra Carlton, spokesperson for the California Apartment Association, said the landlord group is disappointed that Haney did not consider alternatives.
"The vote on the bill came earlier than we thought, and we had hoped that he would work with us to find perhaps a different solution, but obviously that didn't happen," she said.
Carlton said security deposits are important because they allow landlords to pay to repair damage to units. And, should an eviction be necessary, deposits help landlords cover those costs. The average court eviction can take as long as six months and cost an average of $10,000, the association said.
Carlton suggested tenants participate in insurance or bond programs, which could help cover potential damages, like security deposits.
She added that the bill could force landlords to increase rents and become stricter when vetting tenants, ultimately making it harder for tenants to find housing.
Haney said his staff met with the California Apartment Association and he is open to talking with them, but he believes the limits are necessary. He said he would consider amending the bill to exempt homeowners who rent out a single room or a guest house.
Is Housing a Human Right? California Voters Could Decide
Life, liberty, the pursuit of happiness and … housing?
California lawmakers are trying to enshrine the right to housing in the state's constitution. But what exactly does that mean in a state that lacks the resources to give everyone a roof over their heads?
Supporters say the constitutional amendment would hold state and local officials more accountable for solving California's homelessness crisis. "It's really a way to make sure elected officials and the government does its job and doesn't continue to fail so miserably in ensuring access to housing for all," said the author of Assembly Constitutional Amendment 10, San Francisco Democrat Matt Haney.
But the language of the measure is brief and vague and doesn't specify what a right to housing entails or how it would be enforced. Some critics worry the amendment wouldn't do much. Others fear it would do too much — with unintended consequences.
While several prior attempts to create a right to housing in California failed, this one recently passed its first committee vote. Even if it passes, the proposed amendment would still need approval from California voters.
What Would a Right to Housing Do?
The proposed amendment recognizes the fundamental right to "adequate housing" for everyone in California. Local and state lawmakers must work toward fulfilling that right "by all appropriate means."
That's about it. What that looks like in practice and how it is enforced would be hammered out by local officials and the courts.
Haney, one of the few state legislators who rents rather than owns a home, called the measure a "game-changer" during a recent rally in front of the Capitol. He was backed by several dozen people carrying signs that read "Housing is a human right" and "Keep families home."
He said the amendment could influence local planning decisions, such as by empowering lawsuits against zoning rules or policy decisions that restrict affordable housing development. It could also help the state enforce existing pro-housing laws, he said.
According to Michael Tubbs, former mayor of Stockton and now an adviser to Governor Gavin Newsom, a right to housing also would require the government to regulate landlords, potentially by enacting rent control or tenant anti-harassment policies, or guaranteeing renters a right to counsel during evictions. It also would create an obligation for the government to budget for housing programs, he wrote in a recent op-ed for CalMatters.
Newsom has not endorsed the right to housing amendment.
What Would a 'Right to Housing' Cost California?
Declaring a right to housing wouldn't immediately solve California's homelessness crisis, Haney acknowledged, nor would it require cities to provide housing to everyone or entitle people to free housing.
Decades of under-building have led to soaring housing prices and more people living on the streets. The state needed to build 220,000 new homes per year for two decades to meet its population's needs, California's Department of Housing and Community Development estimated in 2000. Last year, the state added just 113,130.
As a result, rents are unaffordable for many Californians. The median rent for a two-bedroom home in San Jose, for example, is $3,100, according to Zillow. It's the same in Los Angeles.
Ann Owens, a sociology professor at the University of Southern California specializing in social inequality and housing, believes everyone has a right to housing. But she's not sure how much good putting it in the state's constitution will do.
"The resources part, I think, is where the right to housing often hits a wall," she said. "You can have this constitutional amendment, but what happens when you don't actually have the money to provide it?"
In 2020, Newsom vetoed a bill that would have guaranteed a right to housing, citing its estimated price tag of more than $10 billion a year. An analysis by the Senate Appropriations Committee laid out billions in potential costs for state agencies to design programs and connect people with housing and other services.
Haney's amendment doesn't yet have a cost estimate. California would have to spend $8.1 billion a year for the next dozen years to house all its homeless residents, according to a 2022 analysis by the Corporation for Supportive Housing and the California Housing Partnership.
At the same time, several lawmakers expressed concern that a right to housing would go too far.
Assemblymember Joe Patterson, a Granite Bay Republican, voted against the measure in committee last week. He said he's "really scared" about the leeway California's judges would have when interpreting a right to housing.
Assemblymember Jesse Gabriel, a Democrat from Woodland Hills and an attorney, worried it would subject every budget decision the Legislature makes to litigation. If legislators allocate money to clean energy or health care, he asked, could someone sue because that money wasn't being spent on housing?
"The major, major heartburn I'm having right now is around enforcement and implementation of this," he said, though he ended up voting for the amendment.
Haney dismissed Gabriel's argument as a "straw man if there ever was one." But he promised to work with legislators, constitutional experts and housing leaders to address his colleagues' concerns.
The measure narrowly passed the Assembly's housing committee and next must clear appropriations.
California Renter Groups Back Amendment
If this idea makes it onto the ballot and voters OK it, California would become the first U.S. state to legally recognize a right to housing.
"It would be a really big deal," said Eric Tars, legal director for the National Homelessness Law Center.
It's not for lack of trying that it hasn't been done before. Attempts in 2020 and in 2022 to put the right in the state constitution both failed – neither was heard in committee. And Sacramento Mayor Darrell Steinberg proposed a right to housing in his city, paired with an obligation for unhoused people to accept a bed when it was offered, but it didn't get far.
The new state proposal likely will meet the same fate, said political consultant Steven Maviglio, who served as spokesman for the campaign against California's Proposition 21 rent control initiative in 2020. Local officials likely will balk at the cost, he said, as will individual homeowners worried about tax increases. "I don't see it having a very long future," he said.
More than 100 housing and renter advocacy groups and other organizations support the amendment, which is co-sponsored by the Alliance of Californians for Community Empowerment Action, ACLU California Action, Abundant Housing LA and several others.
No organizations are on the record opposing the amendment, but the League of California Cities has expressed reservations.
"Cal Cities has concerns with ACA 10, as it does not include the significant investment needed from the state to jumpstart the construction of sorely needed affordable housing throughout California," Jason Rhine, assistant director of legislative affairs said in an emailed statement.
What's Next?
To make it onto the March 2024 primary ballot, the right to housing amendment must pass the Legislature before it adjourns in mid-September. To hit the November 2024 ballot, it has until June 2024. It needs a two-thirds vote in both houses.
After hearing the feedback from his colleagues Wednesday, Haney said it might take longer than this year to pass his measure. "I'm not trying to rush this, just to force it to the ballot," he said.
If it does pass, Haney hopes it will help people like Peggy Pleasant, who spoke at the committee hearing on behalf of the amendment. The Los Angeles mother lost her job in 2008 and became homeless, sleeping with her daughter in her car until it was repossessed. She eventually found housing, but recognizes she's one of the lucky few who did.
"When you're homeless, you lose housing, whatever, you lose family members," Pleasant said. "But you lose your hope. And when you lose your hope, that makes you an inadequate person."
CalMatters.org is a nonprofit, nonpartisan media venture explaining California policies and
politics. For more information, visit www.CalMatters.org.