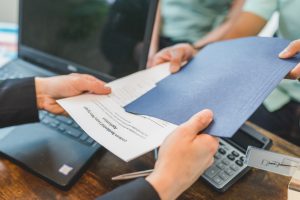 Although 1031 Exchanges offer numerous advantages, they can be complicated and must be executed under the strict guidelines of Section 1031 of the Internal Revenue Code. Any deviation can result in significant tax consequences, including the loss of tax-deferred treatment. To ensure your 1031 Exchange is successful and aligns with your objectives, it is essential to have a strong team at your side.
In this article, we will introduce you to five professionals you should have on your team and provide insights into factors to consider when selecting the right individuals for your team.
- Advertisers -
Five Professionals for Your 1031 Exchange Team
To execute a successful 1031 Exchange, you should work with a team of professionals who can help guide you through the complex process. These professionals include a licensed 1031 Exchange advisor, a qualified intermediary, a real estate broker, a tax professional and a real estate attorney. Together, these five professionals can help ensure your 1031 Exchange is executed smoothly and in compliance with all legal requirements. In the following sections, we will explore the role of each of these professionals in more detail.
Licensed 1031 Exchange Advisor: The Team Leader
Think of a 1031 Exchange advisor as the team captain—and every team needs a good captain. A quality 1031 Exchange advisor is licensed through FINRA, is highly experienced and has in-depth knowledge of the exchange process, tax code, exchange strategies and available replacement property options.
As the team leader, your 1031 advisor will provide consultation, develop your exchange strategy, help you select and acquire replacement property and guide you through critical steps of the 1031 Exchange process to ensure IRS rules are met at every point.
A quality 1031 Exchange consulting firm, like Real Estate Transition Solutions (RETS), has FINA-licensed 1031 Exchange advisors that can calculate tax liabilities and estimate financial projections on replacement properties. In addition, our 1031 Exchange advisors continuously analyze and vet replacement properties to find quality properties that best align with client objectives.
Lastly, a good 1031 Exchange advisor will work closely with the other professionals on your exchange team to collaborate on your behalf to help ensure a seamless transition from start to finish.
Qualified Intermediary: Holding the Proceeds from the Sale
Often referred to as an exchange accommodator or exchange facilitator, a qualified intermediary (QI) is an independent entity that holds the proceeds from the sale of your relinquished property while your replacement property is being identified and releases the funds to acquire your 1031 replacement property. As required by the IRS, prior to closing on the sale of the relinquished property, all exchangers must identify a qualified intermediary and open an "Exchange" with that qualified intermediary, who will prepare all the required documents for the exchange.
Before selecting a qualified intermediary firm for your 1031 Exchange, be sure to consider the QI's reputation, transaction history and experience. Ensuring that the qualified intermediary has errors and omissions insurance and fidelity insurance is also important.
Real Estate Broker: Selling Your Relinquished Property
You may already have a trusted real estate broker to help sell your relinquished rental property. However, if you are in the market for a new broker, it is good to work with one who has 1031 Exchange experience. A real estate broker with exchange experience understands the rigid time constraints of a 1031 and will take additional measures, such as including a 1031 Exchange Cooperation Clause in your purchase and sale agreement, to help protect your exchange.
CPA or Tax Advisor: Reporting Your 1031 Exchange to the IRS
Deferring taxes is at the center of every 1031 Exchange. For this reason, work with a CPA or tax advisor who understands your financial goals, is familiar with 1031 Exchanges and can make themselves available to the other professionals involved in your exchange. Once your 1031 Exchange is complete, your tax advisor will gather the necessary supporting documents to report the 1031 Exchange to the IRS during your upcoming year's taxes.
Real Estate Attorney: Providing Legal Guidance
Although most 1031 Exchange transactions do not require a real estate attorney, there are situations when hiring an attorney is beneficial, such as when a property is co-owned and legal entity restructuring must occur in advance of the exchange or following the exchange. Work with a real estate attorney that has experience with 1031 Exchanges and can make themselves available to the other professionals on your exchange team.
The Bottom Line
IRS Section 1031 is undeniably one of the most generous sections of the tax code; however, IRS rules are absolute and must be followed. Having the right team in place and working with a highly experienced 1031 Exchange advisor at RETS will help you make the most of this advantageous transaction.
Austin Bowlin, CPA is a Chief Exchange Strategist and Partner at Real Estate Transition Solutions.  As Chief Exchange Strategist, Austin leads the firm's team of licensed 1031 Exchange advisors & analysts and provides consultation on tax liability, deferral strategies, legal entity structuring, co-ownership arrangements, 1031 replacement property options, and Delaware Statutory Trust investments. 
Real Estate Transition Solutions (RETS) is a consulting firm specializing in tax-deferred 1031 Exchange strategies and Delaware Statutory Trust investment property. For over 26 years, we have helped investment property owners perform successful 1031 Exchanges by developing and implementing well-planned, tax-efficient transition plans carefully designed to meet their objectives. Our team of licensed 1031 Exchange advisors will guide you through the entire process, including help selecting and acquiring passive management replacement properties best suited to meet your objectives. To learn more about 1031 Exchanges and Real Estate Transition Solutions, visit re-transition.com/aoa or call us at 888-286-5395.
IMPORTANT INFORMATION: The information herein has been prepared for educational purposes only and does not constitute an offer to purchase or sell securitized real estate investments. Such offers are only made through the sponsor's Private Placement Memorandum (PPM), which is solely available to accredited investors and accredited entities. Examples are for illustrative purposes and are not representative of future results. There are risks associated with investing in real estate properties, including, but not limited to, loss of entire investment principal, declining market values, tenant vacancies, and illiquidity. Because investor situations and objectives vary, this information is not intended to indicate suitability for any particular investor. This material is not to be interpreted as tax or legal advice. Please speak with your own tax and legal advisors for advice/guidance regarding your situation. DST 1031 properties are only available to accredited investors (generally described as having a net worth of over $1 million exclusive of primary residence) and accredited entities only. If you are unsure if you are an accredited investor and/or an accredited entity, please verify with your CPA and Attorney. Securities are offered through Aurora Securities, Inc. (ASI), member FINRA/SIPC. Advisory services are offered through Secure Asset Management, LLC (SAM), a registered investment advisor. ASI and SAM are affiliated companies. Real Estate Transition Solutions (RETS) is independent of ASI and SAM.