Sales of existing homes in the U.S. exploded in December to over six million units, a new record, the National Association of Realtors reported last week. Yet the NAR also reported that the inventory of homes still available for sale fell to a record low. Thus, there is a shortage of homes on the market, and this is driving prices higher and higher.
The question is: Why are there so few homes available for sale today? There are several reasons as always, but the main one right now may surprise you. It is certainly an unusual housing market today.
Existing Home Sales Hit 15-Year High – Inventory Record Low
U.S. home sales surged to a 15-year high in 2021, powered by low mortgage rates and intense buyer demand which are expected to keep the market hot during at least the first several months of 2022 if not longer.
Yet the inventory of unsold homes remaining on the market hit a record low in December of last year. This means there is a shortage of homes on the market today. The main reason is because would-be home sellers are reluctant to put their homes on the market for some unusual reasons I will discuss below.
- Advertisers -
First the numbers: Existing-home sales rose 8.5% in 2021 from a year earlier to 6.12 million, the National Association of Realtors reported last week. Home prices grew at a record pace across the country last year. Here are the numbers.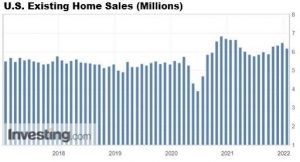 Homes also sold faster than ever last year. Many went under contract within a week of going on the market, compelling buyers to make snap decisions about one of their biggest life purchases. Many were under contract in mere hours after listing. It's crazy!
Low mortgage rates in 2021 increased housing demand from all types of buyers, including first-time homeowners, luxury vacation-home buyers, real estate investors and others. Many households saved money during the pandemic and benefited from a rising stock market and were in position to snap-up new homes. The large generation of Millennials is entering their early and mid-30s, which are common home buying years, adding even more demand.
All these factors point to strong momentum going into 2022, housing economists say.
Shortage: Homes Available for Sale Hit Record Low
However, at the same time home sales hit a 15-year high last year, the inventory of homes available for sale plunged to a record low in December. While it is not unusual for the inventory of homes for sale to fall in December, there is a bigger problem in the current housing market.
There are reportedly millions of US homeowners who are ready to trade up to a larger home. Most have plenty of equity built up in their existing homes. Likewise, most increased their savings during the pandemic and are prime candidates to trade up to a larger home.
Yet many homeowners who are ready to trade up to a larger home say they are reluctant to put their current homes up for sale. The question is why?
The main reason is the recent buying frenzy for homes that come on the market, with most new listings under contract within just a day or two, sometimes within just a few hours. Bidding is intensely competitive in most areas with most houses selling for well above the initial asking price. Most bidders have plenty of cash for a sizable down payment, and many can pay 100% cash. Like I say, it's crazy out there!
All of this makes would-be sellers fear they may get overbid and miss out on getting that larger home they have their sights set on. As a result, many are choosing not to put their homes on the market, resulting in the lowest inventory of homes for sale on record.
There were only 910,000 homes for sale at the end of December, the lowest level on record since NAR began tracking total existing-home inventory in 1999. There was only a 1.8-month supply of homes on the market at the end of December, also a record low.
As you can imagine, the shortage of homes for sale is driving prices significantly higher. The median existing-home price in 2021 rose to a record $346,900, up 16.9% from 2020, NAR said. Some argue soaring home prices could deter potential buyers. It hasn't so far but we'll see.
Rising mortgage rates could also be a negative to would-be new home buyers. The average rate on a 30-year fixed-rate mortgage was 3.56% as of [early February], said mortgage finance giant Freddie Mac, the highest level since March 2020. Most analysts expect mortgage rates to continue to move higher this year.
The good news is, the number of homes currently under construction is at a multiyear high. As more homes are completed this year, that could help ease the supply shortage and make existing homeowners more willing to sell. This remains to be seen, of course.
An estimated 1,595,100 housing units were started in 2021. This is 15.6% above the 2020 figure of 1,379,600. Privately-owned housing completions in December were at a seasonally adjusted annual rate of 1,295,000. This was 4.0% above the 2020 figure of 1,286,900.
Housing starts are expected to rise again in 2022 as demand for new homes remains very strong. However, high prices for building materials, especially lumber, supply constraints and labor shortages persist and weigh on construction times. 
Home builders have been pushing to increase housing starts and inventory; however, faced with numerous supply chain issues and labor shortages, the task has been an uphill battle.
The bottom line is 2022 will be an interesting year in the housing market. The limited supply of homes for sale will keep upward pressure on prices. On the other hand, rising mortgage rates could limit demand. The key may be whether would-be home sellers who want to trade up but have been holding off finally decide to put their homes on the market. We'll see.
Gary D. Halbert is the president and chairman of Halbert Wealth Management, Inc. His Forecasts & Trends Weekly E-Letter may be obtained free of charge by subscribing at www.halbertwealth.com.
Read more articles from the March edition of the AOA Magazine