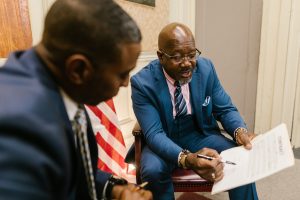 On May 22, 2023, the Alhambra City Council approved "Tenant Protection Ordinances." Both an urgency ordinance and the first reading of a non-urgency ordinance imposing a temporary moratorium on no fault, substantial remodel evictions for certain residential tenancies in
Alhambra were approved. The ordinances passed with a 5-0 vote to approve after robust public comment and discussion from Alhambra property owners and tenants.
The ordinances, which expire on December 31, 2023, prevent landlords from evicting tenants for the purposes of remodeling under certain circumstances. At the May 8th meeting of the City Council, some long-time Alhambra renters reported their landlords are threatening to evict them now that the Los Angeles County eviction moratorium has expired and for the purposes of a "substantial remodel" to raise rents.
- Advertisers -
The California Tenant Protection Act of 2019 (AB 1482) was established to cap rent increases at 5% plus inflation or 10%, whichever is lower. AB 1482 prohibits evictions without "just cause;" however, AB 1482 also contains exceptions including evicting for substantial remodeling purposes.
The temporary moratorium in Alhambra gives the City Council time to research additional considerations to strengthen renter protections. This temporary moratorium on substantial remodel evictions does not apply to:
Any residential property or tenants that are exempt from the California Tenant Protection Act
of 2019 (AB 1482).
Evictions other than those due to substantial remodel, unless the work is necessary to either
bring the property into compliance with applicable codes and laws affecting health and safety
of tenants of the building, or under outstanding notice of code violation(s) affecting the health
and safety of tenants of the building.
The Council materials and audio/video recording of the meeting can be found at www.cityofalhambra.org/AgendaCenter
Tenant's Covid Hardship Claim Proven Bogus in Eviction Case
In a recent unlawful detainer case, a tenant (defendant) asserted the defense of a COVID-related hardship to stave off eviction. The rental property owner, represented by Bornstein Law, overcame this defense by proving that the claim was without merit and that the defendant was not credible in his assertions.
In San Francisco Superior Court, a rental property owner (plaintiff) was able to secure a judgment for a non paying tenant who argued, among other baseless, affirmative defense claims, that there was a financial impact related to COVID.
During the trial, evidence was provided by the plaintiff's attorney that there was no negative impact tied to the pandemic and the outcome was that the court granted judgment for possession of the premises and monetary damages.
Takeaway: Defendants cannot hide behind COVID-era protections reserved for tenants with genuine hardships and with proper counsel, uncorroborated claims can be convincingly disputed in front of a judge or jury.
Montana Rejects Rent Control!
Montana has become the latest state to prohibit local governments from exercising "any power to control the amount of rent charged for private residential or commercial property." This does not apply to "property in which the local government unit has a property interest or in which the local government unit has an interest through a housing authority."
SB 105 makes Montana the 33rd state to preempt a local jurisdiction's rent control authority and comes on the heels of similar prohibitions in both Florida and Ohio. These laws are a positive development for the rental housing industry being squeezed by restrictive government regulations, rising insurance costs and continued market disruptions over the past few years.
However, the trend is reversed in other states; within the past few years, California, Maine, Maryland, Minnesota, New Jersey and New York have all seen local jurisdictions enact rent regulations or further limit a property owner's ability to set their own rates. Countless other jurisdictions have seen such proposals at the state and local levels.
[Editor's Note: Hooray for Montana! We just wish that ALL politicians had enough common sense to see the big picture and realize that rent control destroys housing and cities!]
NYC's Largest Housing Provider Sues
Tenants to Collect $1.1 Million in Unpaid Rent
The city's largest "supportive housing provider" that receives millions of dollars of taxpayer money to house homeless, mentally ill and low-income New Yorkers, is suing tenants for unpaid rent and in some cases asking judges to evict them if they don't pay.
(Supportive housing is an effective strategy that combines affordable housing with intensive services to help people struggling with chronic physical and mental health issues maintain stable housing and receive appropriate health care. Tenants generally pay no more than 30 percent of their income for rent.)
In the last seven months, nonprofit provider Breaking Ground, a 652-unit building in Time Square and the nation's largest permanent supportive housing residence, filed 82 petitions in Manhattan housing court for nonpayment of rent against tenants. The tenants owe a total of $1.1 million in back rent, more than 10% of the building's operating budget.
Some tenants had not paid their rent in months or years, while a statewide moratorium on evictions – put in place during the pandemic – was in effect. That moratorium, however, ended in January 2022.
Housing advocates say the lawsuits against residents run contrary to Breaking Ground's mission of housing and caring for a group of vulnerable New Yorkers. Instead of living up to its duty, they say Breaking Ground is acting like a private landlord. The nonprofit's president and CEO said Breaking Ground initiated legal action against residents after it had "exhausted" all interventions. "Breaking Ground, even as a nonprofit, is still a building operator that must collect rent to pay debt service, to pay operating fees and to fundamentally pay for the crucial wraparound support services for tenants."