There were nine insights for property managers heading in 2018 that were shared in a recent webinar featuring a survey of 1,200 property managers across the country.
Buildium.com did the survey along with the National Association of Residential Property Managers (NARPM), in August and September of this year to provide property managers ideas around strategy and growth for the industry heading into 2018.
The survey was about 50-50 female-male, and about 70% of the property managers responding said they were over the age of 40. The insights involved:
Renting is more attractive than buying
Millennials make up 56% of the total rental market
Baby Boomers want long-term rentals
The top 2018 goal for property managers is to become more efficient
Second, property managers want portfolio growth
Third, property managers want revenue growth
Marketing
Investing in staff
Investing in technology
Renting More Attractive Than Buying
The webinar was conducted by Chris Litster, Chief Customer Officer, and Michelle Burtchell, Vice President of Marketing at Buildium. "According to Price Waterhouse Coopers, 12.5 million new households will be created over the next 10 years, and more than half of those are going to be rentals.
- Advertisers -
Why? "Rising interest rates, tight inventory, increasing demands, a lack of affordable housing compared to income, all of these things make renting very attractive to many Americans across all generations," she said. 
Millennials Make Up 56 Percent
Millennials are waiting longer than ever to buy homes, and currently make up 56% of the total rental market. 
Baby Boomers Want Long-Term Rentals
Baby Boomers are drawn to the long term rentals as an alternative to carrying a mortgage. "This isn't just coming from Price Waterhouse Coopers, there is an article in the Wall Street Journal stating the same. Renting is much more attractive than buying nowadays," Burtchell said. "Our survey responses show that property managers are poised to take advantage of this trend, and offered a range of advice that has been received over the years."
Property Managers Want to Be More Efficient in 2018
"What's interesting is that the goals related to growth and efficiency flip-flopped this year. In 2016 growth was the top goal, but this year, efficiency jumped as a top goal from 24% to 49%," property managers said in the survey. "Growth as a priority is still incredibly high for all of you, as 83% are projecting to grow in the next two years, but there was a slightly more conservative outlook there," Burtchell said on the webinar.
"This is a margin-driven business and frankly humans don't scale. We heard from you all that ultimately on average you wear about 1.76 hats in your business. We actually think that number is low. We all know that you probably wear many more hats than that on a daily basis. You wear those hats because ultimately you have small staff because 64% of you have fewer than five employees, and most of you actually have under two," Litster said on the webinar. 
Top Things That Challenge Property Manager Efficiency
"In the survey property managers told us that top challenges are:"
Dealing with maintenance issues
Managing and juggling multiple tasks daily
Being more efficient with to invest in the business and grow with it
"Put differently, if you look at time management and efficiency issues, they're part of what makes so many other things on this list so stressful. The time that these things take up hold you back from doing tasks and activities that can help you grow and be more efficient," she said.
Ages of Property Managers in the Survey
Tips to Help with Efficiency
Have a trusted list of vendors
Document, document, document
Have a property management system to help you document
Do quarterly inspections
Don't rush tenant screening
Expect the unexpected
Go paperless
Get the right software
"When it comes to taking care of maintenance requests and doing make-readies, you don't choose between them. If you have to outsource to get things done in time, pay the extra. It's worth it. I'm sure all of this sounds familiar," she said on the webinar.
Litster added, "Don't rush tenant screening. It will only hurt you in the end if you don't take the time to understand who your tenants are and screen them." 
Property Managers Top 10 Wish List
Make a list and prioritize it
Connect with the staff
Use your morning effectively
Stick to one task at a time
Group smaller tasks together
Use your tools and resources
Minimize interruptions
Break up big tasks
Breathe
Laugh a little
How to Be More Efficient Around Bookkeeping and Accounting
"Get tenants to pay their rent online," Burtchell said. "If you're not collecting the checks, it's just easier when everything's automated. Give accounting reports for the year to owners. Let them know what's coming and what happened in the past year. Hire help, bookkeeping help, whether it's full-time, part-time, whatever that might look like." Also:
Make sure you know the laws.
Provide tenants with a perk or bonus for on-time rental payments. The carrot instead of the stick.
Put security deposits in a separate account and get the right software.
Hire bookkeeping help whether it's full-time, part-time.
A Live Survey Poll of Property Managers on The Webinar Asked:

Benefits of Technology
"Benefits of technology are obvious for most of you, but it's actually not obvious for all of you," Litster said on the webinar. "If you are at all on the fence on this about whether efficiency or growth are connected with technology, look at these benefits from the people who felt like they were winning at efficiency because of their investment in technology."
"These are the same exact kinds of benefits you would expect to see from somebody investing, right?  Burtchell said. "You can stay more organized, track your finances, simplify collections and just simplify across the board. The ability to work on the go. I'm sure all of you knowing that you have very few staff spend a lot of your time in the car trying to manage your day-to-day.
"In addition to getting those things done faster, we saw that there were benefits outside of just simply efficiency, right? People that were using technology found that they could improve their work/life balance, improve relationships, improve professional reputation, and ultimately scale the business. They were able to get time back in their day that allowed them to focus on other things," she said.
Property Managers Want Portfolio Growth with More Properties In 2018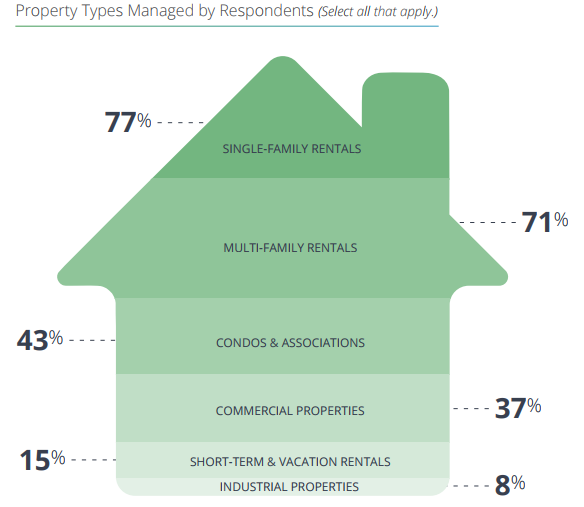 "The second thing you all are looking to do in this coming year, you want to grow," Burtchell said. "As we said earlier, 75% of you reported that you had business growth in the last two years. The vast majority of you, 83%, expected that it would keep growing. That said, we found that you're a little more conservative this year than last year- 89% in 2016 said that they had expected to grow."
Litster said, "61% of you said the key to growth is acquiring more properties as you go. The next couple might be a little bit of a surprise. Relationships from clients and referrals from word-of-mouth. They are key. Word-of-mouth and referrals end up being a huge factor around growth and tied with the 61% of you who said acquiring more properties." 
How to Differentiate Your Business
It's about making your business stand out from the competition, giving somebody a reason to choose you rather than choose someone else," Burtchell said.
"When we talk about differentiation, there are really two core audiences that we focus on. The first one, unsurprisingly, is the owners. For them, what you want to do is focus on what makes you unique from every other property manager in your area. Evaluate your service offerings."
Invest in Relationships – The Owners
"Invest in the relationships that add value to the overall running of the business and the benefits you realize as a result," she said. "Be the master of your trade. If you have a technology tool, don't be afraid to position the efficiencies you get from that technology as a differentiated benefit for your owners. They'll like it just as much as you do. All of this seems obvious, but one interesting piece of feedback we kept hearing was the idea of really owning and knowing your worth as you're thinking through your differentiation, consider every single angle."
To Recap:
Audit your service offerings to make sure that you identify those areas that make you unique and where you stand out.
Check out your competition to understand how they stand out and how ultimately you can be better than them.
This is the time where you want to promote the uniqueness of you and what you have to offer, such as key relationships with vendors, special programs for tenants for overall resident happiness and satisfaction and promote it everywhere.
The Top 13 Most Common Services That Property Managers Reported Offering
If you're assessing your offerings, consider these to be table stakes.
Maintenance and Repairs – (offered by 86% of respondents)
Property Leasing – (80%)
Property Showings – (80%)
Property Inspections – (77%)
Evictions – (69%)
Resident Screening and Application Management – (69%)
Fee Collection – (68%)
Vacancy Marketing – (65%)
ePayments – (62%)
Accounting – (62%)
Bookkeeping – (60%)
Cleaning – (59%)
Consruction/Renovation – (51%)
A few of those include offering maintenance and repairs, offering property inspections, and offering e-payments. If you're not doing at least those three things, it's time for you to step up and make sure that those are in your plan.
For property managers who are looking to differentiate their services from the competition, consider offering less common services, depending on your niche. Options like outdoor services, financial reporting, property purchasing, or other specialties like association management, financial advice, or interior design could be worth considering. 
Invest In Relationships – Your Residents
"The second audience to focus on is, of course, your residents," she said. "You want to think through the benefits you provide. Technology benefits are a big one. Vendor portals, online payments, online maintenance ticketing, SMS communications or text options and more, these are big draws for new tenants, especially the millennials. Special programs. Think of local discounts and services. Think about what's going to attract tenants or enhance the experience that they have, negotiate local services like dry cleaning, pet sitters, crop shares, or other locally sourced food options. Community events. Anything to be creative and make somebody want to choose your properties over somebody else's."
Evaluate Your Online Presence
"Of course, utilize your online presence," she suggested. "Your website, social media, whatever it is that you use to promote the properties that are available for them to live in.
Visuals, like photos and videos, engage people more than text alone.
Tell a story with your pictures and take pictures that showcase curb appeal, new renovations, and even the fresh coat of paint or new appliances in one of the units."
"Of course, property management is face-to-face most of the time," Litster said. "You're out running and seeing your tenants and trying to work with your owners. "These days however, the barrier between that physical world and the digital world, it's blurred so much that there's no longer an option to not deal with having your business online. Here's why:
90% of gen-xers and millennials begin their housing search now online.
It's the first thing that they do.
75% of them conduct at least some portion of their search via mobile device
"So make sure that you are able to be found online and what they find reflects all the value and all the differentiator that you offer," Litster said on the webinar.
Reputation Management Online
"The reality is how you manage your reputation is going to be by face-to-face. You're running all over town, connecting with Realtors, owners, and tenants. You're in a human business, so that makes sense, but the thing is we don't have the luxury of ignoring the online presence anymore," Litster said.
"As we consider the impact of word-of-mouth on your business, it's important to understand that word-of-mouth is also online. Nowhere is it more critical to monitor than online review sites and one of those review sites starts with a Y, that we all know historically we have loved to hate. It's time that we have to address it, as an industry, upfront and head on. We can no longer afford to ignore the Y social media," he said.
"That Y is Yelp.  Online reviews can make or break a business's reputation and that really applies to every business out there. It especially applies to property management," Burtchell said. "Sites like Yelp and Facebook are where most people go to search for what others think about you and your business and your responsiveness and how satisfied they are with their experience overall. Just as word-of-mouth is happening in person, it's very much happening online," she said.
"Let's talk a little bit about managing that online relationship. Review sites we know drive action amongst various users more than any other kind of site. Users turn to reviews now when they're ready to make a decision. It's really important that we all take the time, as you told us in the survey, to make sure that you know what your listing says about you.
First thing is the more photos you have the more easily tenants and clients can find them.
One to five reviews and at least 10 photos are the target, because what happens is that leads
to over 200 percent more views than with no photos on Yelp.
Don't be afraid to ask for reviews if you've provided a particularly good experience.
27% of Yelp searches are solely to find a location.
Claim your business. You can't avoid and ignore Yelp.
Keep that information up-to-date. This isn't just for convenience anymore.
Businesses with completed profiles see five times more customer leads each month.
Reviews are the most honest, direct source of feedback you can get.
"The phrase feedback is a gift, is something we heard a long time ago and we still use it today. Feedback is a gift. It isn't always a great gift, but it's a gift," she said. "You can correct a bad situation. You can change how people perceive you, and in sometimes looking at this feedback, you may need to improve how you operate. " Respond to those reviewers with empathy, sincerity and humility. This can help mend relationships. What we've seen from data out there is that if handled properly, a third of negative reviews can become positive after business owners respond in a constructive way.
"Here's the other kicker. Just as reviews are now in Google Local search, Yelp's search algorithm favors businesses whose owners regularly interact with their page and engage with their users. Take that, plus Google Local search, you have to really manage your reputation online now more than ever," Litster said.
SUMMARY
2018 and beyond shows tremendous opportunity
Take time to focus on professional relationships
Evaluate investments in people or technology to improve efficiency to position
you well to grow.
Understand and develop your differentiators and communicate them clearly.
Take the time to focus on the relationships around you, with owners, with tenants,
your local community and industry relationships.
Have a cool head, a warm heart, and a thick skin.
Don't take it personally, whatever "it" is.
Never compromise integrity for any reason.
RentalHousingJournal.com, an interactive community of multifamliy investors, independent rental home owners, residential property management professionals and other rental housing & real estate professionals, is the most comprehensive source for news and information for the rental housing industry. This website features exclusive articles and blogs on real estate investing, apartment market trends, property management best practices, landlord tenant laws, apartment marketing, maintenance and more.  Reprinted with permission.