"By keeping interest rates low, we are trying to make homes more affordable and revive the housing market." That came from Federal Reserve Chair Janet Yellen earlier this year.
My friend, that's all you need to know when it comes to the housing market today.
Yes, prices are up. But mortgage rates are down this year. That means housing affordability is still near record highs. And the most important person for the housing market – Janet Yellen – is on our side.
My numbers show median housing prices could increase another $53,000 from here. And that's just to get back to "fair value." Our long-term gains could be even higher.
Let me explain… longtime readers know I've been putting my own money into real estate over the last few years. It might surprise you, but the majority of my post-bubble investments haven't been in the stock market… but in real estate.
Until now, I'd never bought real estate as an investment. Before the housing bust, I'd never seen enough value to get me interested. But since 2010, our opportunity has been incredible. And it still is…
The simplest example is the overall U.S. housing market. I've said for years that now is the best time in history to buy a house. And I still believe that statement is true. You see, even after a few years of solid price increases, housing is still cheap!
To size it, we need to look at where home prices are, relative to their "fair value." Our fair value calculation uses current home prices, mortgage rates, and incomes to determine where housing should be, based on what folks can afford.
Our measure showed the overvaluation during the housing bubble and it identified the value during the bust. Today, even after a big move higher in prices, it shows housing is still cheap. Take a look…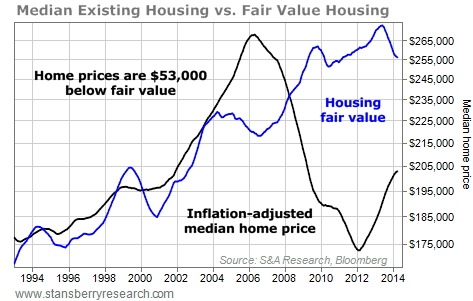 As I write, the median home price in the U.S.is around $203,000. But our fair value estimate sits at $256,000. Said another way, housing is still $53,000 BELOW fair value!
The gap has been narrowing since 2012. Home prices are up in that period and mortgage rates have come up a bit as well (even though they're down this year). So the opportunity isn't as good as it used to be… but it's still fantastic.
Right now, housing is cheap. Prices are moving higher, which is good. And Janet Yellen – the woman who controls interest rates – is on our side. She has explicitly stated her goal of continuing to boost the housing market.
You haven't missed this move yet. All of the original pieces are still in place. And I expect housing and real estate to continue higher from here.
This is what I've been doing with my own money. And I'm not slowing down now. I suggest you do the same. Good investing.
- Advertisers -
Dr. Steve Sjuggerud is the editor of True Wealth, an investment advisory which specializes in safe, unique alternative investments overlooked by Wall Street, and based on the simple idea that you don't have to take big risks to make big returns.  For more information, visit www.stansberryresearch.com 
A version of this article first appeared on June 23, 2014 in the Daily Wealth, published by Stansberry & Associates Investment Research, an independent investment research firm.  You can visit them at www.stansberryresearch.com.