Dear Dan:
I read your excellent article in a previous AOA issue about statewide protests.  Thank you for representing landlords who are the most hated and victimized people in the world!  You wrote that people who are damaged can write to you.
For about two years, I have kept my house vacant because I am afraid to rent.  (I won't get into it, but before Covid-19 I had a very difficult tenant who got free legal assistance). If evictions continue to be disallowed, I will be forced to sell my house because I cannot keep my house vacant forever.  If landlords are prohibited from doing evictions, then they are completely at the mercy of their tenants.  If a tenant happens to be psychologically disturbed or radicalized (or both), then a landlord could be stuck with a very difficult tenant for an extended period of time (perhaps life).
By taking away the power of evictions from landlords, the state is forcing landlords to offer care and assistance to people that may be impossible to manage, even for professional psychologists and health workers.  By not having evictions, the state is putting tenants, landlords, and society at risk.
Without a power to evict, what redress does the state offer for a completely unmanageable tenant?  The risk of being a landlord now outweighs the rewards.  How does a dysfunctional housing market benefit anyone, except the large corporations? Many small landlords will be forced to sell their property and invest in markets that are still functional.  The small landlords will be replaced by large corporations that lease huge blocks of housing units.  The corporate landlords can still afford to pay high attorney fees and average out losses.
As you know, the current system is anti-American and favors socialism.  Thanks for the work you do.  Best, Scott H.
- Advertisers -
Dear AOA: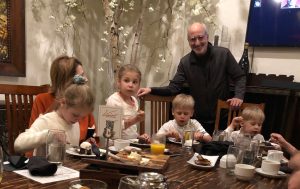 I am hosting a family of nine from Ukraine. The parents, (a doctor and pharmacist), fled the bombing and came here with their children.  While they are looking for a home, their goals are to obtain jobs here as doctor and pharmacist, their professions in Ukraine before the war.
Please consider notifying AOA members (in the magazine) who may have a rental home for them.  Anyone wanting to donate a vacant home for this beautiful family may contact Lenny Levi at [email protected]. Thank you. Sincerely, Zachary Lawrence, JD, Parkside Property Management
AOA's Lawsuit Against L.A. County
Dear Jeff:
Thanks for this lawsuit. It is needed.  I had talked to you previously about sending you an email about what I said to the LA County Board of Supervisors.  Here is what I wrote:  "This is legal theft! No business can legitimately stay alive if customers can pay whenever they want.  If Costco or Walmart's customers could pay whenever they wanted, then, those businesses would fail.  How about incentivizing people to work? There are many jobs out there – why not encourage people to be employed". Best, Charles K.
Dear AOA:
Firstly, thank you for your magazine, so informative and timely. I also enjoy the Letters to the Editor – I just wish you had indicated on there the Editor's email address.
Your article about the Santa Ana rent situation prompts me to write about another matter:  the trash monopoly in Glendale.
We are a small mom and pop, 5-unit owner in Glendale.  Beginning December 1, 2021, the City of Glendale has outsourced trash pick-ups. We used to pay $67/month, but with the new city-selected provider, it went up to $311.30/month.  A whopping 358%!!  This at a time when we were severely limited in our ability to increase rents?!  Landlords' hands have been tied during the past year with the pandemic, and now this UNREASONABLE, BURDENSOME, PUNITIVE cost increase.  Our recent rent raise only averaged 4.45%!
We have also called the city several times and have had no luck for a response, let alone an intelligent discussion. A recent email reply from the city was unsigned, the sender remained unidentified.   After a second try, I was able to reach a live person at the new hauler's office, whose only response repeatedly was "This is City-approved."
This is a city overreach to impose an effective monopoly!  This on top of recent imposed "city money collection practices" (like the Fire Department inspection charges where the FD is not even obligated to send owners reports of the result of the inspection; there is an additional administrative charge by the hour if you call or email for clarification or response, etc.).
We take care of our property and we are very considerate of our tenants — but it seems to me that it is the city's goal to drive us small mom and pops away.  Are there other Glendale owners in a similar situation? Sincerely, E. Mathov
Dear AOA – This is a letter I sent to many politicians:
I have a tenant in Long Beach who has not paid rent since October. Despite being evicted, the tenant is still there. He has nightly parties and uses Uber eats. The Long Beach rental assistance program and Housing is Key denied an application for assistance to cover all the rent owed.
In the month since the tenant was "evicted," he has had parties that keep paying tenants up at night. Two of my good tenants want to leave now because of this non-paying tenant.
The parties involve marijuana smoking, some of which is coming through the walls to the unit above. That tenant works at 4 am so he doesn't appreciate the parties at 2 am held on my property. Among the participants are people who don't live on my property.
I call the police but they never show up.  I also called the fire department because the nonpaying tenant parked his car on the sidewalk and tenants had trouble going to work. He blocked the gate. They were all stuck inside. The fire department said they couldn't help.
We are stuck hosting marijuana parties run by the tenant who lives for free with consent of the government that claims it's interested in affordable housing, but when I provide it – with two- bedroom units that range from $1,200 to $1,500 a month, there's not only no support, but a series of policies to hurt me. This is truly shameful and unravels years of work to make great things in a gritty sliver of Long Beach.
In 2015, I bought this property and there were people dealing drugs and running prostitution rings on it. I asked for help from the Long Beach Police. An officer, a Northside commander named Rudy, came and told me he saw no evidence of prostitution, even though the women solicited men who work for me. He said he saw no evidence of the marijuana, which at the time was not legal but its odor emanated from every window of the building. I called the police and told them it was being sold in my garage but dispatcher Amanda told me if I don't live there, they can't help me. So just in case you want to report a bank robbery in Long Beach, I guess you can't because you need to live in the bank for police to respond.
I had to get rid of those drug dealers and prostitutes myself. Alone. And it was done. And I even rid that property of the smell of the feces coming from the next-door neighbor (whose property is filled with code violations), by nagging the city code enforcement and animal control. I walked down that street and people came to thank me.  Where people had dealt drugs, there were women studying the bible and children playing.
Thanks to the eviction moratorium, all that is gone. The place is overrun by this vagrant who creates health and safety hazards while my family is forced to support him. His girlfriend, who I understand is a victim of his violence, applied for rental assistance but it was denied. I just called and asked why. I can't get an answer. I'm being yelled at. By a program that includes the word "assistance."
I got $3,000, barely enough to cover the attorney I needed to hire to remove him. Only two of the five months of rent is provided. I asked the state program, Housing is Key, why. They said it's up to the city of Long Beach. I asked Long Beach but there was no explanation.
I wrote emails to federal representatives about their moratorium and they told me it's not a federal issue, even though it was a federal moratorium and the state representatives' offices never return an email or a call and if you get someone on the phone, they say it's a federal issue so they can't help and if you call a city official, they'll tell you that moratorium isn't their fault! I called the governor's office and the operators hung up the phone. What an interesting way to spend taxpayer money while claiming to promote affordable housing.
So I'm carrying the burden of a policy no one wants to take credit for. And I'm not Walmart, which was not subjected to an order to provide free tampons and diapers, which my tenants could really use in a pandemic.
The $3,000 doesn't cover the costs because the government-supported tenant declared he had Covid to prolong his court case but showed no proof of that. So, a judge gave him another month of free rent before declaring an eviction. Now, the Sheriff won't deliver the notice. After several weeks of waiting, I called and the Sheriff did go out but my attorney didn't put the apartment number on the document.
So, the case was put at the bottom of the pile. I called and inquired and was told it's the order in which it's received. We are now moving into five weeks after the eviction was ordered and I was told that I just need to wait some more.
At night, I field complaints from tenants and I pray they will not perish trapped inside an apartment complex by his car should the fire in his barbecue grill – which violates my lease – become unmanageable.
When that happens, I will be held liable – not all those who chose to aid and abet this non-paying tenant, who, by the way, has a full time job and chose not to pay rent because a moratorium existed to allow this craziness. I was told by tenants that he is currently in jail while the girlfriend runs the parties with non-tenants using my property.
Please tell me if you can provide any assistance since you want to promote affordable housing. I could offer this apartment below market to a family that needs a home instead of hosting after- midnight marijuana parties as per the policies promoted by this moratorium culture. Thank you, Jennifer D.
Dear AOA:
I live and own units in San Diego.  Here, although not official, we have a "de facto" eviction moratorium. In short, it recently took me over six months to evict a tenant.  The unlawful detainer case was contested!  My attorney aggressively pushed the case along.  Not only were there all the delays "caused by Covid", but the judge sat on the paperwork for over three months.  Her excuse was that she was really busy.  Of course, that was nonsense.  She was instructed to sit on the paperwork by the Judicial Council.
The bottom line is it is very easy to "do the right thing" as long as it is not your money.  In short, there is a war going on.  I call it the "war against the people who pay the bills".  Right now, less than 40% of the people in this country pay any federal income tax.  I find that figure scary.  Again, my thanks to you and everybody at AOA for all that they are doing.  I'm afraid that there is not going to be a happy ending to all of this. Daniel K.