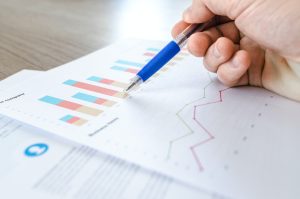 Multifamily fundamentals have been holding up better than expected through the first quarter, but there is still a looming mild recession expected later this year, Yardi Matrix experts explained in a recent Multifamily National Outlook For Spring 2023 webinar.
"Things are quite a bit more nuanced and more variables in play than there have been as we go through this on-going adjustment in this post covid world," Jeff Adler, Vice President, Yardi Matrix said.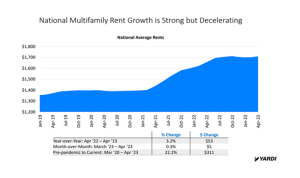 - Advertisers -
"The current investment environment requires increased creativity to find potential investable opportunities, which Yardi Matrix is designed to do," said the presenters, Adler and Paul Fiorilla Editorial Director, Yardi Matrix.
Macroeconomic Update
S. economic growth slowed in the first quarter, with GDP growth falling to 1.1 percent, further deceleration to come.
The Fed is still in a tightening cycle, but will slow the pace of rate increases soon, as there is a less than one-year lag to actions
Inflationary pressures have started to cool, but remain elevated due to underlying price pressures
De-globalization continues
The SVB/Signature/Credit Suisse/First Republic banking crisis is a natural consequence of financial tightening.
The labor market is tight, but showing signs of weakness at the upper end, w/ no consensus on immigration policy.
S. economy is slowing, yield curve (10 year- three month) is inverted, mild recession very likely in second half of 2023.
How Does Multifamily Fit into This?
Multifamily fundamentals have been strong, but we expect deceleration within a seasonal uptick.
Market rotation occurring, with rent-by-necessity less impacted by new supply.
Affordability is still a key concern, with little political will to resolve and significantly more regulatory risk.
Demographic trends will keep the labor market tight, and entrenchment of hybrid work has tilted consumer budgets toward housing.
Construction financing is in short supply, and deliveries could be significantly reduced in 2025.
The supply shortage of U.S. housing is likely to last 5-10 years, supporting continued rent growth and capital appreciation.
The bid/ask spread for acquisitions remains very wide, with initial pre-distress and distress emerging.
Transactions have, and will, slow over the next 18 months until inflation moderates and interest rates come down.
Multifamily Outlook Highlights
Yardi Matrix says multifamily rent growth, occupancy, demand remain strong, but less than 2021 and 2022 as "deceleration" occurs. Reasons for rent deceleration:
No. 1 – Post-pandemic migration is slowing, but a major reset has occurred
Return to "normal" migration to Sunbelt markets, (i.e., Southeast, FL, TX, Mountain West)
Intra-state migration slowing to secondary metros such as Sacramento, Inland Empire
Resort towns will remain beneficiaries of the 20 percent of office employees fully remote
Gateway rebound led by young workers, retirees, immigrants
"Work from Office" varies by industry and function, but hybrid dominates
Growth highest in suburbs of major markets
No. 2 – Household growth is slowing
2020/21 boom in households from job, wage growth, stimulus and pent-up demand
Job growth slowing, consumer excess savings ebbing from $2.7 trillion peak, now ~$1T
No. 3– Supply growth, especially in high-demand metros in Texas, Southeast
1 million units U/C nationally, but starts are waning as financing dries up
400,000 to 450,000 deliveries in 2023-24, slowdown in following years
Yardi Matrix researches and reports on multifamily, office and self-storage properties across the United States, serving the needs of a variety of industry professionals. Yardi Matrix Multifamily provides accurate data on 18+ million units, covering more than 90 percent of the U.S. population. See the full report from Yardi Matrix here. Contact the company at (480) 663-1149.
The RentalHousingJournal.com is an interactive community of multifamily investors, independent rental home owners, residential property management professionals and other rental housing and real estate professionals. It is the most comprehensive source for news and information for the rental housing industry. Their website features exclusive articles and blogs on real estate investing, apartment market trends, property management best practices, landlord tenant laws, apartment marketing, maintenance and more. Reprinted with permission.