Residential Rentals Survey and Application Fraud
By Snappt
Residential Rentals Are at Risk
With U.S. unemployment rates at historic highs, we wondered, how is this impacting the residential rental market? To find out what effect the pandemic is having on the residential rental market, Snappt commissioned the 2020 Effects of the COVID-19 Pandemic on Residential Rentals Survey.
This survey focuses on financial document application fraud (altered bank statements, fake pay stubs, etc.) and the connection to evictions within rental portfolios. We surveyed property managers who either manage or are directly involved with evaluating rental applications and renters split among Millennials, Gen-Xers, Boomers and the Silent Generation.
- Advertisers -
Key Survey Findings
Renters and properties are struggling

Tenants are struggling to pay rent

Property managers report that 53% of tenants are having trouble making rent. In fact, 25% of tenants are paying late, 17% now pay less than full rent, and 11% have stopped paying at all. Additionally, the number of renters paying rent by credit card is soaring. Is this an indicator that these renters are near the end of their financial ropes?

Financial difficulty leads to application fraud

Rental application fraud is on the rise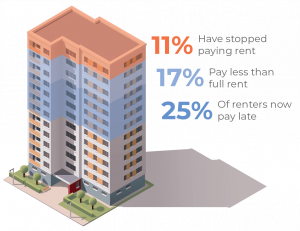 Evictions are Stacking Up
Property Managers report an astounding 21% eviction rate today, a 75% increase from last year. One in four of these are tied to application fraud. Three of ten renters have been or will be evicted after moratoriums expire. In fact, the typical property manager has 15 evictions stacked up waiting for moratoriums to expire.
Did you know that more than a fourth of the financial documentation within rental applications are fraudulently altered? This includes fake pay stubs, altered employment records, and other financial documents being falsely presented as legitimate during the rental application process. These types of financial document fraud are difficult to detect, especially when submitted in an online application.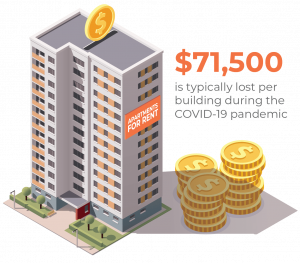 Financial Documentation Fraud Leads to More Evictions
Altering application documents is easy with everyday technology like high-quality scanners and photo-editing software. Although it's easy to commit, it's difficult to detect. Unfortunately, this leads to applications with inaccurate information which makes tenant screening riskier than ever before.
Can Property Managers Minimize Their Risk?
Yes. Property managers can employ a combination of tenant screening best practices combined with affordable technology to stay a step ahead of even the most sophisticated fraudsters and protect their portfolios from losses in these difficult times.
Visually Inspect Every Document
Is the visual quality of every document what you would expect? Or, does it look like
it has been copied multiple times? Ensure account numbers carry across separate
documents. Check that transactional details and other numbers are aligned and match
formatting in verified documents you've received from the same source in the past.
Double-Check the Numbers
Call all the telephone numbers on a document to make sure they work; but, how do you
know the person on the line is a prior employer or an accomplice in crime? Look up contact information for issuing organizations or corporate HR departments yourself. Ask for details such as a start-date, specific information a friend would be unlikely to know.
Consider the Big Picture
Does the narrative across all sources of an application agree? Inconsistencies or
dead links for live documents are a red flag. How do applicants feel about submitting
paperwork in person? Peruse LinkedIn pages and review histories through online
databases such as sba.gov or opencorporates.com to ensure a company is legitimate.
Ask applicants to print statements in the leasing office.
Utilize Technology
In addition to the previous techniques, many property managers are turning to
technology solutions. New tools allow for programmatic evaluation of tenants and
identification of fraudulent documents to prevent a fraudulent tenant from ever
signing a lease.
Catalyst Case Study
Our nation's nurses, teachers and first responders increasingly struggle to affordably reside within the communities they serve. This growing crisis is especially prevalent in California, which accounts for 40 percent of the least affordable cities for middle-income households.
Larkspur, California-based Catalyst Housing Group is tackling the middle-income housing crisis head on, working tirelessly to cultivate innovative capital solutions that spawn stable and perpetually affordable rental housing for California's essential workforce.
 One example of Catalyst's work is the recent acquisition of the Annadel Apartments in Santa   
 Rosa, California. Partnering with the California Community Housing Agency, Catalyst is  
 allowing Sonoma County's essential workforce to remain local by reducing Annadel's rents and 
 restricting the income levels of new tenants to 120% of median income.
"People who can't pay rent where they work are commuting upwards of an hour or more in each direction and that is detrimental for everyone," says Laine Gomez, a partner at Catalyst.
Catalyst retained FPI, the industry's fifth-largest property management firm, to manage Annadel. One of the challenges FPI faces across its portfolio is a high rate of fraudulent applications. "It's surprising, but fully 26 percent of our applications include financial documentation that has been fraudulently altered," says Nicole Ballard, Community Director at Annadel Apartments.
To protect themselves from such fraud, Catalyst and FPI have partnered with Los Angeles-based Snappt. "We take the original financial documentation -such as a pay stub or bank statement—and with the help of our data-driven detection algorithms, we can tell whether or not a document has been tampered with or not," says Daniel Berlind, co-founder and CEO of Snappt. "We're essentially looking for digital fingerprints that point to fraudulent financial documents."
What, exactly, is a fraudulently altered financial document? In some cases, it is an authentic document that has been altered digitally. An example might be a bank statement showing a balance of $1,803 that has been Photoshopped to add two zeroes. Voila—the applicant now has a balance of $180,300.
Another common tactic is to create a bogus paystub that appears to be 100 percent authentic. The applicant may be unemployed, but the paystub may show an annual income of $75,355.
A direct line can be drawn between application fraud and an increased chance of non-payment. As the average cost of processing an eviction tops $7,500 nationally, it is critical that owners like Catalyst leverage cutting-edge technology to properly screen tenants as they apply.
"We used to vet applications by hand," says Ballard. "That took upwards of three days, and we had a high number of applicants bowing out as a result. With Snappt, we'll submit the resident's information and we have an answer in less than a day—often just an hour."
 Catalyst's Gomez is thrilled with how Snappt is working out. "It's simple, inexpensive and accurate," says Gomez. "Our onsite team is happy. And that means Catalyst is happy.
Snappt has made this document scanning software available to all AOA members through the AOA Membership Portal.  For more information, visit https://aoausa.com/membership/aoa-document-screening/.
Snappt, a Los Angeles-based real estate technology company, provides data-driven fraud detection services that can accurately spot fraudulent documentation. Snappt is used by three of the top six property management firms in the country, the company says.