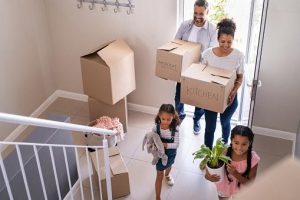 Many parts of the world are in turmoil because of religious or political conflict or the ravages of the COVID-19 pandemic. Millions of people have become refugees or have chosen to leave their home and go to a new country to begin a new life. They usually come with only a few belongings but with a strong will to make a new home for themselves and their families and faith that they will be able to do it.
Making the transition is hard work. Many of these newcomers come to the Bay Area and, thankfully, there are several organizations that are here to help them. Members of different religious organizations have united to provide assistance to meet a wide variety of needs. It is heartening to know that it is possible to find a group of generous and dedicated people who are willing to share their time and resources to help these families. Often the family is newly arrived to the United States and needs help to find a job, getting a driver's license, enrolling their children in school and take all the steps necessary to become a productive and successful member of a community. 
Some of this help is one-on-one and very personal, such as going with a parent to a school to enroll their children and seeing to it that the kids get into the right classes. Sometimes a volunteer will accompany a person on a shopping trip so that the newcomer can learn what is available. They can provide assistance in finding a job or enrolling in an English class. 
The intent is to provide real support on a predictable but temporary basis so that the members of the family can obtain the knowledge and skills necessary to make a comfortable, secure place in the community. After a few months, families are usually able to strike out on their own, but the period of transition is critical and calls for dedication and commitment. Having a place to live during the time of transition is especially important and perhaps the most difficult to arrange. 
Shelter in Peace
- Advertisers -
Shelter in Peace, Inc. (SIP) was established in 2018 to help solve this problem. The purpose of SIP is to find transitional housing (for one year or less) for immigrants, refugees, and low-income families who are being assisted, financially and otherwise, by a support organization. In effect, SIP acts as a broker to connect the organization that is supporting a family with the owner of a housing unit. In the summer of 2018, SIP obtained a rental house for an immigrant family from El Salvador. The house was owned by a local church and the rent was guaranteed by a local synagogue. During the few months that the family was living in the house, they put down roots in the community, and welcomed a new baby to boot. Very shortly after SIP's involvement ended, the family obtained permanent housing on their own. 
SIP is currently involved with two homes that are housing families from Guatemala and Afghanistan. SIP pays the owner a below market rate rent using funds paid by the sponsoring organization. In addition, SIP is leasing a house from the City of Alameda for a nominal rent and will sublet it to a sponsoring organization for transitional housing after some remodeling and repairs are completed. SIP is reaching out to owners of rental property to connect to organizations that are sponsoring families that need that housing. 
If you have an apartment or other unit that would be a suitable for transitional housing and you would like to find out more about the possibility of renting it to Shelter in Peace, for that purpose, please email SIP at [email protected]. SIP is organized as a nonprofit corporation under California law and is exempt from federal taxation under Section 501(c)(3) of the Internal Revenue Code.