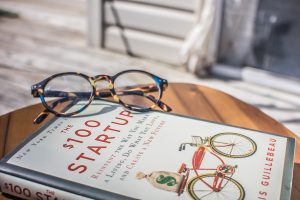 Andrew and his family had freshly arrived in the United States and the young Carnegie was eager to work. He took his first job at age 13 when an industrial textile weaver offered him employment as a bobbin-boy. Weaving was something Andrew knew a little about, in that his father had supported the family with a hand-loom back in Scotland, before the industrialized power looms took over.
In a factory setting, the bobbin-boys job was to feed the power looms. They had a ravenous appetite for thread. Andrew accepted the job, working seven days a week, from dawn to dusk. His salary was $1.20 a week.
How Andrew Carnegie Made His Wealth
He was excited. He had his first paid employment. But it didn't take long to notice that some of the other bobbin-boys were much older and had been doing the same work for years. In after-work conversations, Andrew learned that they were paid $1.20 a week, just as he was. Subsequent discussions revealed that nobody could recall a bobbin-boy who had been promoted. It appeared that once employed as a bobbin-boy, always a bobbin-boy. It was a dead-end job. Andrew did not find that an appealing prospect.
- Advertisers -
Less than a year after hiring on, at the age of 14 and seeking advancement, he left the feeding of power looms and became a messenger for a local telegraph company. When a telegraph came in the boy who was to deliver it became very busy, but there was often dead time between messages. Young Andrew did not adapt well to periods of boredom, so between running messages he applied himself to learning how to use the company's equipment.
Upon demonstrating adequate proficiency, he was subsequently promoted to telegraph operator. At the age of 24 he was once again elevated, this time to becoming the personal telegrapher and assistant to Thomas A. Scott, superintendent of the western division of the Pennsylvania Railroad. It was Thomas Scott who initiated Carnegie's investment career when he alerted Andrew to the impending sale of ten shares of Adams Express Company. Andrew's mother, Margaret, mortgaged their house and obtained $500, which Andrew then borrowed from his mother. He bought the entire 10 share lot. Within two years Carnegie was receiving dividends of approximately three times his railroad salary.
Adams Express
Adams Express was formed in 1839 when Alvin Adams, a produce merchant ruined by the market collapse of 1837, began charging a small fee to carry letters and packages on the rail line between Boston and Worcester, Massachusetts. Successful, Adams hired others as runners and quickly extended his territory to New York City, Philadelphia, and other eastern cities.
In the 1840's, Adams Express was used by abolitionist groups to deliver anti-slavery newspapers from northern publishers to readers in the southern states. By 1847 his lines extended deeply into the South. In 1849, a Richmond, Virginia slave named Henry "Box" Brown shipped himself north to Philadelphia and freedom via Adams Express.
Over time, Adams Express morphed into a publicly traded investment company composed of ADX (a diversified equity fund) and PEO (a closed-end energy and natural resources fund). The company remains active today. It is one of only five companies that have continued to operate as a closed-end fund since 1929. Dividends have been paid continuously since 1935.
Carnegie, quietly enraptured by his Adams Express results, became increasingly interested in repeating his success. He did not lack opportunities. Railroads were rapidly expanding. They were one of the first of what later became, for a period, "Can't Lose" investments and everybody wanted in. There was always money to be made, in one way or another. In this unregulated, low information time, it was not uncommon for an aggressive speculator to buy stock for $50 (example) and later that afternoon to sell half for $100, keeping the other half for himself at essentially no net cost.
Theodore Tuttle Woodruff (1811 – 1892) was not a speculator. He was an inventor in search of capital to form a company. Tuttle's value was that he held two patents that he proposed to grant to the nascent company. These patents would permit the couch-style passenger seats found on railroad cars to be unfolded into beds.
Tuttle presented his case to Carnegie, who recognized it as a promising opportunity. It was the right company, the right thing, and the right time. Sleeping cars on U.S. railroads became rousingly successful. So successful, in fact, that Carnegie ultimately bought the entire company. That drew his attention to railroads as a special class of investment opportunities. Thus, he was alert when he learned what Col. Stevens was up to.
The first railways were wooden tracks with a sacrificial layer of iron on top. While long lengths of flanged iron railing were available, they were not optimal in that iron wore quickly and had to be replaced often. Col. Robert L. Stevens, then-President of the Camden & Amboy Railroad, investigated the options and concluded that steel rails would be more suited to the task. They would have a longer useful life and when too worn for primary lines, could be repurposed into rail for low-speed secondary lines and sidings.
The difficulty was that while American steel mills of the time could fashion short lengths of the flanged steel T-rails used by early railroads, they could not roll the longer lengths of steel Col. Stevens required. He was forced to place orders with British steel mills and pay for the costly shipping to America.
Carnegie was alert. When he learned what Col. Stevens had in mind, he estimated the delivered cost to the Camden & Amboy Railroad and concluded that a modern domestic mill, prepared to fashion the long lengths of the flanged steel tracks the railroads required, would dominate the market.
Edgar Thomson Steel
Carnegie began construction of the Edgar Thomson Steel Works, outside of Pittsburgh Pennsylvania, in 1872. Using the Bessemer process, it produced its first steel rails approximately three years later, in 1874 or 1875. (sources vary). The plant is well-placed on the Monongahela River, which joins with the Allegheny River to eventually form the Ohio River. The Ohio communicates with the Mississippi and thence to the Gulf of Mexico. Being on a navigable river system offered an affordable way Carnegie could economically transport heavy, bulky materials like iron ore, coal / coke, etc. (Coke is a derivative of coal. It is created by heating coal in the absence of air, thus removing impurities from coal. When used as a fuel, coke provides more heat than does coal). It provides in and flanged steel T-rails out. Carnegie must have been right because Edgar Thomson Steel remains in business today, 150 years later. It is currently known as the Mon Valley Works – Edgar Thomson Plant and is owned by U.S. Steel.
Among other attributes, steel is stronger than iron, which means that if one object is made of iron and an identical object of steel, the one of steel can be made thinner, cheaper and lighter than its iron sibling. In the kingdom of ferrous metals, steel was the one metal to rule them all. Yet, turning iron into steel was historically slow and expensive. The Bessemer process changed that. It was a process for the industrial production of steel from molten pig iron. Carnegie and his coterie were instrumental in bringing the Bessemer process to America.
Carnegie's new Edgar Thomson Steel Works initiated the United States as a major world steel producer. Using the Bessemer process, Carnegie Steel was able to reduce the costs of steel railroad rails from $100 per ton to $50 per ton between 1873 and 1875. By the 1890's, Carnegie was selling rails for $18 per ton. Prior to the opening of the Edgar Thomson Steel Works, the United States produced 150,000 to 160,000 tons per year. By 1910, using the Bessemer process, American companies were producing 26 million tons of steel annually.
An observer could not fail to notice how well the Edgar Thomson plant was doing. Recognizing the opportunity, a group of investors built a competing plant, also on the Monongahela River, and not far from Edgar Thomson. They called their new plant (built 1881) the Homestead Steel Works. The new facility was vertically integrated and consequently advantaged in ways Carnegie's plant was not. It included associated coal and iron fields, a 425-mile railway, and a line of lake steamships. The Homestead would profit from buying iron and coal from its own mines. It would profit again, as it paid itself to move products on its own railroad. Its steamships gave it access to the Great Lakes and the various burgeoning cities of Toronto, Cleveland, Detroit, Chicago and Milwaukee.
Interestingly, The Homestead Steel Works was apparently a speculative build because the project was offered for sale only two years later. Carnegie and his minority partners snapped it up.
In 1883 Carnegie melded Homestead into his Carnegie Steel Company. In 1892 he incorporated both of them to form the Carnegie Steel Corporation. It became one of the largest steel manufacturing companies in America and in 1901, upon the sale of Carnegie Steel to U.S. Steel Corporation for $480 million (in then-money, a little over $14 billion in now-money). Henry Phipps, their bookkeeper and minority partner, received between $50 and $70 million (again, sources vary). Shortly afterwards the Phipps family established Bessemer Trust, a money-management office that still exists and has received much positive recognition. Henry Clay Frick, who manufactured coke for Carnegie's factories, and Andrew Carnegie split the remaining $420,000,000 or so. It is unlikely the split was equal. Due to the fact that Carnegie is commonly described as "one of the richest men in history" and references to Henry Clay Frick are followed by "Who?", it appears Carnegie was the majority partner and likely received the greater share.
And that was how Andrew Carnegie made his wealth.
This article is for informational purposes only and is not intended as professional advice. Klarise Yahya is not a financial planner. Nothing in this article is presented as investment guidance. For specific circumstances, please contact an appropriately licensed professional. Klarise Yahya is a Commercial Mortgage Broker specializing in difficult-to-place mortgages for any kind of property. If you are thinking of refinancing or purchasing real estate, perhaps Klarise Yahya can help. For a complimentary mortgage analysis, please call her at (818) 414-7830 or email [email protected]