Recently, Swiss investment bank UBS and researchers at Campden Wealth Research published their annual report on the world of family offices. If you're not familiar with the term, a family office is essentially a private wealth management group that handles investments, finances and other important matters for super-rich individuals and affluent families.
The origins of family offices date back centuries to kings and queens of Europe and were reportedly first adopted in the U.S. by the Morgans and Rockefellers. Many family offices today act as a personal concierge for wealthy families. In addition to managing their investments, finances, businesses and security, they often also handle their personal affairs and lifestyle needs.
According to Forbes, there are currently over 10,000 single-family offices globally, a ten-fold increase since 2008. If we include multi-family offices – those that serve more than one family – the number is considerably higher. Even more impressive is the sheer amount of wealth being managed by these firms. Conservative estimates of the assets managed by family offices is in excess of $4 trillion. That, too, is probably quite low.
This year's UBS report surveyed 360 family offices. On average, their clients had over $1 billion in wealth. The report is an interesting read because, in theory, these folks have access to the most sophisticated market knowledge and an unlimited range of options for protecting and growing their wealth.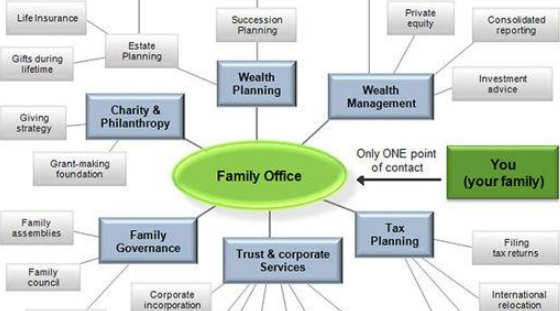 - Advertisers -
The headline statistic from this year's report was that more than half (55%) of the family offices surveyed said they are preparing for an imminent recession. According to the report, the family offices are adjusting their investment strategies to limit risk – decreasing equity exposure and increasing cash reserves – while increasing allocations to alternative investments.
One portfolio manager interviewed by UBS said, "Our view is that there is a potential recession within the next two, two-and-a-half years. I personally see it coming even sooner, and I think things are going to turn ugly."
This portfolio manager noted that his firm has been cutting clients' stock allocations for several months. "If the client, for example, wanted to have between 15% and 40% in equities, we are now lowering it to half of that, to the middle of where they would like to be."
Word that the world's wealthiest families are preparing for the worst triggered a stream of worrisome headlines in the financial media:
"Family Offices Expect a Recession Next Year – and
 Many are Hoarding Cash to Prepare"

–

Business Insider

"World's Richest Families Stockpiling Cash"

– Bloomberg

"The Rich Think a Recession Is Coming…"

–

Chief Investment Officer

magazine
Headlines like these and others recently would make you believe that high-end investors are abandoning the stock market. But the facts suggest otherwise, as I will discuss below.
The report on family offices also notes that a lot of the affluent investors' worries focused on the trade standoff between the US and China and the potential for it to undercut the global economy. That concern is shared by large and small investors alike.
Stocks Remain the Largest Allocation Among Family Offices
Despite the apparent market anxiety of UBS survey respondents, stocks remain the single-largest allocation in most of their portfolios. Equities make up nearly a third, 32%, of the average family office portfolio – roughly the same as last year.
These family office investors like "private equity" in particular – about 19% of the average portfolio. Private equity investments are not usually an option for most individual investors.
They also like real estate at about 17% of the average portfolio. And they're keeping some capital in bonds – about 16% of the average portfolio is in fixed income. Meanwhile, cash comprises 7.6% of the typical portfolio… up all of 0.7% from 2018.
It is important to note that so-called alternative investments – including private equity, real estate, hedge funds and others – account for about 40% of the average family office portfolio, a significantly higher share than among public pension funds.
Allocations to alternatives are set to increase further. A net 39% of respondents said they expect to increase exposure to companies that issue direct private equity securities in 2020, and a net 28% expected to increase their exposure via private equity funds. Real estate also remains an attractive proposition for family offices with a net 16% aiming to raise direct property holdings in 2020.
The point is, while over half of all family offices report they expect a recession next year, they apparently are not making wholesale changes to their investment portfolios. I'll put it another way: While these investors say they are buying into the media narrative of a recession next year, they are not investing accordingly. Hmm…
Bottom line: It remains to be seen if the family offices will actually follow through on their recession concerns by lightening up on stocks and increasing cash. I'll keep you posted.
How to Invest Like a Family Office – We Can Help
Studies show that many large institutional investors and family offices have 40%-50% of their portfolios invested in so-called alternative investments and less than half of their assets in traditional stocks and bonds. Most individual investors, on the other hand, have little or no exposure to alternative investments which may help diversify their portfolios and reduce risk.
When we talk about alternative investments, most investors think of things like real estate or precious metals, and maybe a few other investments which are generally only available to institutions and ultra-high net worth individuals.
Yet the truth is there are numerous alternative investments which are available to individual investors today – if only they knew where to find them. Generally speaking, most successful alternative investments have three desired characteristics:
Low correlation to stocks and bonds;
Lower volatility over time; and 
Consistent absolute returns
So, what are some of the most popular alternative investments today? Here are some examples, just to name a few:                           
Private Equity Lending
Real Estate Lending
Insurance-Linked Assets
Advanced Options Strategies
Quantitative Long/Short Strategies
Alternative Fixed Income
These are just a sampling of the alternative investments available to individual investors today, and more are being introduced as the demand grows. At Halbert Wealth Management, we have made it our business to seek out successful alternative investments to offer our clients and investors like yourself, in addition to the more traditional strategies.
We understand how alternative investments work, and we know how to find them. It used to be that we had to seek out these successful alternative investment managers ourselves. And we still do. But increasingly, we do not have to look for them. Why? As we have grown in size and reputation, many of these successful alternative managers now come to us.
Once we find a potential investment candidate, we do all the heavy lifting for you. Each investment is subjected to our extensive due diligence process before we make it available to our clients.
Now, you are probably thinking, "There's no way I have enough money to invest like the pros that run family offices." In the past, that was often true.
But not today. In fact, there are more alternatives available to individual investors than ever before. Of course, some of the investments are designed for larger portfolios, but most are very approachable.
In short, at Halbert Wealth Management, we offer you the opportunity to invest like large institutional players and family offices – the so-called "smart money," with a fraction of the capital the big boys have at their disposal.
No Reason You Can't Invest Like the "Smart Money" 
I don't often write about our investment services, but there are two important points I hope you take away today and think about. The first is that many large institutions and family offices have 40%-50% or more of their assets allocated to alternative investments, which are not highly correlated with stocks or bonds.
The second takeaway is that you can invest like institutions and family offices using the alternative investments we offer at Halbert Wealth Management. We've been searching for successful alternative investments for a very long time, and we believe we are very good at it.
The bottom line is, we can help you with all your investments – traditional stocks and bonds AND alternative investments. And we believe we can do it better than most conventional investment firms. That's why we want the opportunity to manage your money.
If you've been reading me for a long time but have never invested with us, now is the time to consider it seriously. You need some alternative investments in your portfolio – especially when these aging bull markets in stocks and bonds head south, and they will.
I don't know if the family offices are correct that we're headed for a recession next year, but you should prepare for it in any event. We can help you diversify your portfolio with alternative investments to help you ride out the next recession/bear market.
Call us today at 800-348-3601. Speak with one of my non-commissioned Investment Consultants and let us show you how to add alternatives to your portfolio. As stated above, there is no longer any reason why you can't invest like the smart money.
As one of our clients, I will be happy to visit with you personally. I look forward to it! 
Gary D. Halbert is the president and chairman of Halbert Wealth Management, Inc. His Forecasts & Trends Weekly E-Letter may be obtained free of charge by subscribing at www.halbertwealth.com.