NO INSPECTION TENANT SCREENING WITH THE
"ABC Grade Report"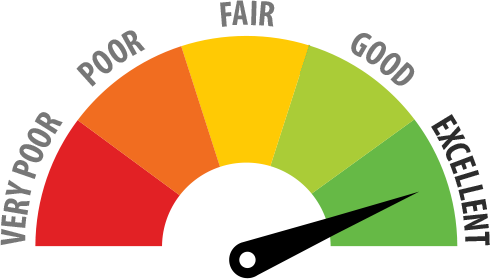 You can now obtain an "ABC Grade Report" that replaces a standard credit report without having a site inspection. The only difference is that we can't reveal specific numbers from the credit report without the inspection. What you will get is an A, B, C, D or F grade for each application you submit to help you make the right decision. Also, you will get the ABC Grade Report for free with every full credit report.
Tenant Qualifier: This grade-based credit report helps you make uniform decisions. Protect yourself from making bad decisions. AOA recommends basing applicant acceptance on credit behavior, criminal behavior (where permitted), and residential behavior. As an AOA member, all you have to do is complete the required paperwork to start receiving this report.
Customize Your Grade Criteria Yourself!
Did you know that you can actually adjust the preset criteria? This is a great feature unique to AOAUSA that puts you in total control. Don't like that the cutoff for an "A" credit rating is a FICO Score of 700? No problem! You can adjust it down to 680 if you like. There are many criteria, and you can adjust them all as you see fit.
The Preset Grade Definitions for the "ABC" Grade Report
The applicant's credit information must meet all criteria for a particular grade. Example: All criteria may be perfect for an "A" rating, except that the credit history may be less than 36 months old, so the rating would fall to a lower level. If there is no credit history it will be an automatic "F". Criteria for each grade is subject to change, so ask the operator for any recent changes.
Grade Definitions for AOA's "ABC" Grade Report
Credit Score Between 700 and Perfect
Must Have Credit Report
Credit History Must Be at Least 36 Months Old
No 30 Day Late Accounts in the Last 12 Months
No 60 Day Late Accounts in the Last 12 Months
No 90 Day Late Accounts in the Last 12 Months
No Collection Accounts in the Last 24 Months
No Bankruptcies in the Last 48 Months
No Legal Items in the Last 24 Months
No Tax Liens in the Last 24 Months
Must Have at Least 90% Positive Accounts

Credit Score Between 600 and 700
Must Have Credit Report
Credit History Must Be at Least 24 Months Old
No Collection Accounts in the Last 12 Months
No Bankruptcies in the Last 18 Month
No Legal Items in the Last 18 Months
No Tax Liens in the Last 24 Months
Must Have at Least 80% Positive Accounts

Credit Score Between 500 and 600
Must Have Credit Report
Credit History Must Be at Least 12 Months Old
No Collection Accounts in the Last 6 Months
No Bankruptcies in the Last 12 Months
No Legal Items in the Last 12 Months
No Tax Liens in the Last 12 Months
Must Have at Least 70% Positive Accounts

Credit Score Between 400 and 500
Must Have Credit Report
Must Have at Least 60% Positive Accounts

Credit Score May Be Below 400
Has Below 60% Positive Accounts
Might Not Have Established Credit or Fico Score
Might not have any payment history to report