Two and one-half years ago, despite overwhelming property owner opposition, Mayor Eric Garcetti and his
City Council abandoned a system of trash collection by competitive bidding and instituted a trash monopoly
system where trash corporations were awarded monopolies for specific areas. The trash corporations assured the Mayor and the Council that these monopolies would lead to operation efficiencies and could bring collection cost down, as much "as 10 to 20%."
This never happened! What did happen was the trash monopoly increased fess as much as 200%!!! These trash
increases drive up the cost of rentals and impact all of us – especially the most vulnerable of our citizens. It is
our City government which professes to be concerned with the homelessness problem and it appears that they
are actually the cause of some of it! Sadly, despite promises, "the promised fixes" and the abuses of the trash corporation monopoly continue.
In a February 7 th , 2019 meeting at Councilmember's Koretz office, three Athens Service providers admitted to
charging excess overweight fees – an additional $107.19 per dumpster charge, without verification. Athens'
representative admitted to charging these without having any sort of scale to confirm the actual weight –
OUTRAGEOUS! And the fraud continues … we received an additional charge for an overweight container ($107.19 on top of
their usual inflated fee, with no weight verification!). We were aware that this was erroneous when we
requested proof; they sent us a photo for substantiation (photo below).  After our property manager investigated,
we proved conclusively that this photo was not taken on our property. Was it a "mistake"? How many other
"mistakes" in the trash monopoly's favor are continually being perpetrated on vulnerable customers?
Below is the picture Athens sent us to justify the $107.19 overweight charge in February of 2019.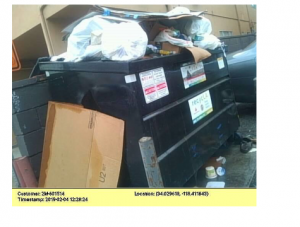 Here is the actual bin on our property. Note that the address is clearly marked on the bin!
- Advertisers -
This is a corrupt system that continues to make errors and drive up the cost of affordable housing. Where is the
promised oversight?  The sad answer is little or none! The trash monopoly is a system that continues to inflict harm – it should be changed. Competitive bidding has always proved to deliver the best possible services at the lowest cost. It is wrong for government to deprive its
citizens of that economy!
Victor Bardack is with Pacific Investments.