A version of this article first appeared on October 18, 2022 in True Wealth, published by Stansberry & Associates Investment Research, an independent investment research firm. You can visit them at www.stansberryresearch.com.
The drumbeat of bad press for housing isn't slowing down … and recently, we got another addition to the tide of bad news. The Light, a widely followed online newsletter from John Burns Real Estate Consulting, posted this alarming headline earlier this month: "Housing Bubble Set to Pop".
Without a doubt, the housing market is going through a shift. And after two white-hot years in the sector, it's easy to worry that any slowdown is the start of a grinding downturn.
But the reports of a housing crisis are missing one key point – and it's the most important factor you need to understand what's happening. Let me explain …
The headline from The Light refers to an assessment that John Burns' firm conducted among 73 housing industry executives in 2013. Back then, the execs were asked to put together their top 10 signs of a housing market bubble. They formed two top 10 lists – one quantitative and one qualitative.
- Advertisers -
The firm revisits these lists at its conference each year to see how the housing market is doing, and this time, 16 of 20 indicators were flashing red.
Below are the lists, with entries ranked by Burns. Flashing indicators of a current housing bubble are highlighted.
The lists suggest we're in the final innings of a bubble. And if you look at the news, many other folks say the bust is already here. These reports might make sellers wonder if they can sell their houses at all today.
But a better question might be – can you spare a week? See, the news will tell you that the rate of home sales is seriously out of whack. You can see this in the quantitative column above with indicators flashing for "falling sales" and "waning demand."
But the data tells us otherwise. In fact, today's rate of housing sales is less unusual than you might think. We can see it by looking at the median number of weeks it takes for a home to sell.
Realtor.com has published this statistic since 2016. It shows us the speed of housing sales across the U.S. Since the chart is seasonal, we're going to focus on the most recent monthly data – September 2022. Take a look at how last month compares with the same period in previous years.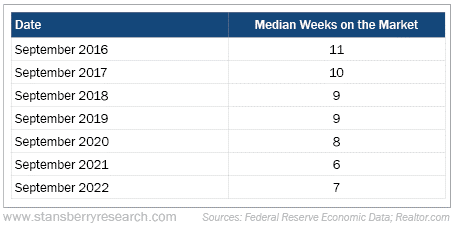 This September, homes spent about seven weeks on the market. That's compared with about six weeks last September… and about eight weeks in September 2020. So, we're smack in the middle of the post-pandemic seasonal range.
And if we average every September since 2016, homes stayed on the market for an average of eight weeks. So, we're within a week of the six-year average, too.
This rate of sales doesn't point to new bubble behavior. There's no sign of frenzied buying. And it doesn't take too long to sell. As long as you list your home at a reasonable price, you'll probably be okay.
That doesn't change every factor on the list from Burns. But it gets at the most important dynamic – the one we've been tracking for years… supply and demand. That's all you really need to understand where housing is today.
Of course, the financial press will continue to beat the "housing crash" drum. Those articles get clicks and eyeballs … but don't be fooled by the headlines. Based on the data, housing sales are holding up fine. Good investing, Sean Michael Cummings