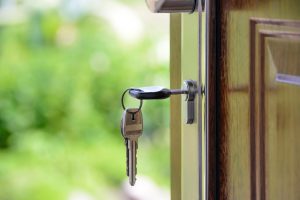 As most of you know, I rarely show my properties by meeting prospects. I put a lock box on the house and let prospects go when they have time. I made the mistake of posting this in one of the online forums and got blasted! LOL .People said things like:
"I bet your houses get broken into all the time."
"How can you sleep at night knowing people are in the house?"
"How can you be so irresponsible?"
And a whole lot of other not very nice things.
My first mistake was in not qualifying my statement and explaining that I have a system. I don't just tell prospects "Hey, there is a lock box, here is the code, go see it!". I am not that careless or crazy!
Understand, I have no issue with any property owner or property manager deciding to meet prospects. You have to do what works for you and I fully support that.
However, I personally have limited time and I have found that it is a waste of my time to meet people at the properties for various reasons.
- Advertisers -
I work from 7:30 to 4:00 pm. Do you know when most people ask to see properties? After they get off work which is usually after 5:00. I don't want to work that late. They are always late, they "forget" or they just don't bother to show. I got so sick and tired of running over to the property to meet these people and it was generally a waste of time.
A lot of prospects are looking for their "perfect house". There is no guarantee that my house is the right one for them. I have wasted hours of my life that I will never get back, showing properties to people when it didn't fit their needs.
There is also a safety factor for me. Before I stopped meeting prospects, I was in several situations where I felt very unsafe. My life is valuable to me and it isn't worth risking it just to meet some strangers and show them a property.
My System
I do the same thing every single time and I am very thorough. I require everyone to fill out a pre-screening form and they have to meet certain requirements. Only people who meet the guidelines are allowed to tour the property. Then I call and speak to them and ask them if they have any questions. There are times I will disqualify someone after talking to them and they don't get to see the property. Calling them also makes sure their contact information is correct.
The last thing that I require is for them to send me a picture of their ID. The address on their ID must match the address on their pre-screening form. There are days that I get four or five prospects who have addresses on their IDs that don't match the address they provided on their pre-screening form. I will accept a bill with their name and address on it as long as it matches what they provided. This can open a whole can of other issues, many of which lead to them not being allowed to tour the property.
Save Time and PreScreen
The reality is that I receive hundreds of requests to see a single property. When I have 3 or 4 properties listed for rent, I would spend all of my time driving from house to house attempting to meet people. I would never get anything else done!
I pre-screened 26 people just yesterday via email. Only 4 of those people met the guidelines and were allowed to tour the property. They all called the office, after hours, as they were in the house or they were driving away, asking how to apply.
Using this system gives me a lot of control and allows me to use my time better. I find more qualified people and they are allowed to tour the property at their convenience. It doesn't matter if it is after hours, on the weekend or if they are running late. None of this impacts me or my time. The prospects can spend 5 minutes there or an hour and I don't care! I want them to be excited and trying to figure out where they are going to put their furniture. No one wants me standing around waiting on them to hurry up and decide.
As for the "extra risk" involved in allowing self-showings, there really is not any extra risk involved. I have complete contact information for all of these people and they are aware of that. I have never had a problem with someone breaking in or stealing something as a result of self-showings.
Keep in mind that all someone has to do is break a window or kick in a door and they have access to the house. Me meeting them and showing the property to them in person or even holding an open house doesn't give me any extra power to prevent someone from breaking into a property if they really wanted to.
Property "Health Checks"
Every year, I have one or two AC units stolen from occupied properties! If someone wants to steal something, they will, no matter what you do to prevent it.
I also do "health checks" on the properties to make sure all is well. The frequency depends on how many people have been in the property but they happen at least once a week. I also rotate the lock box code frequently and prospects are told that.
For me, there is no extra risk in using a lock box to show a property and I love showing properties this way. It works well for me. I have more time to thoroughly pre-screen from the comfort of my office and I can actually work on tasks related to my job. I also don't waste time or gas driving around all day attempting to meet people who may or may not show. Prospects are actually happier and love that they have the freedom to see the house on their schedule, not mine.
Debbie Vornholt has been in property management for over 10 years and in real estate related fields for over 25 years. Over the years, she has worked for some great property owners and has learned a lot.
She has helped many rental property owners to get a grip on their business by implementing systems and procedures to solve problems and get their lives back. Over time, Debbie has learned that the key to being a successful landlord or property manager is to have systems in place that are used every single time! For more information, visit www.debbievornholt.com or email her at [email protected].