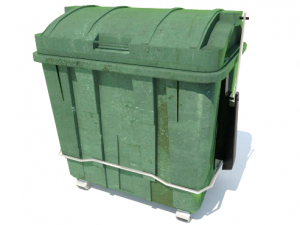 2020 was anything but ordinary, and trash has probably been the last thing on your mind.  In the midst of elections and pandemics, who had time for that anyway? But the trash isn't going to take out itself (we mean that literally), so let's start a conversation.  
Are you living on a property that is part of the Los Angeles jurisdiction titled RecycLA? If so, you may already know what we are getting at. Is everything really as bad as it seems? Is all hope lost? Don't start looking for a new place just yet! Let's dive into a few categories of this waste monopoly to see what we are dealing with.  
To see if your property falls under the RecycLA jurisdiction, simply search "RecycLA Map" and click on the lacitysan.org link.  
The RecycLA Mandate  
- Advertisers -
According to the new RecycLA mandate, prices have been raised by 3.57% at the start of 2019 and 6.41% at the start of 2020. Just how much they will continue to grow in 2021 is anyone's bet. One of the mandate points that has made property management and building owners quite frustrated is the overfill and overweight charges. 
As of this writing, (November 2020), the overfill charges are $28.39 and a whomping $114.07 for overweight charges – which is where it gets tricky. If you're not sure of the difference, don't worry. We're getting to it now.  
Overfill  
An overfill is when the trash has more waste than it's supposed to. This must be proved by a trash worker with a photo showing that waste is not level and/or the doors are unable to fully close. Keep in mind that a photo is mandatory proof; otherwise, the charge can be reversed. Of course, this can sometimes be unfair, such as when a small cardboard box makes the bin lid raise slightly, and this is then considered an overfill.  
Overweight  
An overweight charge is implicated when the truck driver says that your trash is too heavy. You can also start to see the problem here in that it is too subjective. Of course, photo proof is required as well, but this does not do anything if the driver has stated their case. 
You may also receive an overweight charge if the driver does not approve of what is in the bin, such as wood, construction, and more. These items usually shouldn't be in the bin, but even a small wooden drawer may cause an overweight charge. So, try to be extra mindful when you are organizing your waste to avoid any extra fees.  
Now, not all trash companies mandate to charge this overweight fee; some refuse service until whatever is causing the "extra weight" is offloaded from the bin. This is great for your wallet but can be a real headache to complete.  
Many garbage trucks don't have scales on them, so the overweight fee will depend largely on the driver. If you happen to get a built driver who's 6'3", weighing in at 220 pounds and has never missed a workout, then you might be okay. But if you, unfortunately, get a driver who just isn't that into gyms or just isn't having a great day, well, then you may be out of luck. Of course, there is still a chance of getting these charges reversed, but most cases cannot be proven wrong. This subjectivity factor is what is most frustrating about this new mandate.  
Recycling  
Now, let's talk about recycling, shall we? What a beautiful way to reduce waste and take part in helping our environment as best we can.  
With the RecycLA mandate, you can request your recycling to be picked up, matching the frequency of your trash pick-ups at no additional cost. Keep in mind that these will not be included in your "Scout Fees" that are charged if your waste bins are over 100 ft from the street, so you have nothing to worry about. But there is a twist.  
Contamination Fees?  
According to the RecycLA public information provided, your bin may not be accepted if it is contaminated. But you won't be charged for this contamination in your recycling bin through the end of 2020 … so where does that leave us on January 1st of 2021?  We can't look into a crystal ball to see the future, but something tells us potential contamination fees may be on the way.  
The RecycLA mandate also states that recycling is permitted to be 10% contaminated before it is considered contaminated … if that makes sense. This is their kind way of accepting a few non- recyclable items here and there since everyone slips up sometimes. Many people want to help the environment, but they just can't get the hang of it or are starting to learn. But this is nothing to worry about; keep doing your best to separate your trash, and don't worry about an accidental  
diaper finding its way into the recycling bin.  
A Fee Summary – (2020)
Oof, that was a lot at once wasn't it? Don't worry, we will summarize all the potential fees for you and figure out where exactly you can save.  (Prices listed below will be higher for 2021).
Overfill- $28.39 per occurrence  

Overweight- $114.07 per occurrence  

Hazardous, radiological, or biochemical waste contamination- $114.07 per occurrence  

Bulky waste- $34.07 per occurrence  

Gravity lock/lock bar installation- $114.07  

Container lock-$11.35 per lock  

Entering secured building/unlocking gate/distance charge/delay- Up to $56.78 per collection  

Container cleaning, graffiti removal, pressure washing- Up to $170.35 (one free each year)  

Return payment fee (due to a rejected payment) -$28.39  

Container removal- $5.68 per container 

Reinstatement of account fee- $79.49  

Container delivery after reinstatement- $28.39 per container  
Of course, in addition to these potential fees and their 2021 increases, you will also be paying monthly service rates according to the size of your dumpsters and pick-up frequency. Now, we won't be adding up these numbers in order to keep you sane, but you can see that it can easily go into the thousands. The monthly fees are ones you can't avoid, but some of these other ones don't have to appear in your bill if you are careful. If you notice your fees piling up, then maybe it's time to hire a professional consultant on a shared savings model to help you understand what you could be doing better. General janitorial services can also aid in avoiding overweight and overfill charges, along with other benefits depending on the company.  
Pick-Ups  
Now one thing we have noticed since the start of RecycLA is more missed pick-ups. But, to be fair, the drivers had to learn a lot of new routes. These missed pick-ups still occasionally occur, more often with recycling than trash. Perhaps because it's a free service? Regardless, it's important to make sure that you are receiving the services you need and at the correct time.  
Of course, there was a spike in waste when the lockdown began. We all have felt surprised to wake up to a large package that we ordered after one too many glasses of wine. However, deliveries with cardboard and packing materials have been on a steady increase with or without the lockdown. So, if you notice too many missed pick-ups, then this is surely an issue to deal with. Another benefit to a third-party consulting team is a hands-on approach that focuses on your waste and recycling to ensure the waste company does what they are supposed to when they are supposed to.  
So … What Now?  
Now you may start to wonder if there is any hope. Sadly, no. Just kidding – there absolutely is!  Through waste reduction and increased recycling efforts, anyone can reduce their waste bill even under a monopoly like RecycLA. Of course, you cannot choose a different hauler at a lower price. However, you are still permitted to decide your waste frequency.  
If you are worried about fees, there is one thing you can do. Many third-party companies offer free (yes, you read that right) waste audits. They will help you find any discrepancies with invoicing, helping you save thousands. The only thing they will keep is a small percentage of the money they help you save. This is going to improve waste flow operations and save you the money you didn't know could be saved. 
Unfortunately, the "Recycle Coordinators" sent out from waste businesses have the waste company's best interest in mind. Well, this is to be expected. It's even been said that employees make a commission when properties increase their services. We aren't blaming anyone since this is how businesses make money, but it's not great for those living in the area.  
A Recycle Coordinator may suggest six days of trash pick-up and three days of recycling pick-up. But, a third party who has your best interest in mind may actually recommend getting five days of trash pick-up and five days of recycling pick-up with janitorial teams to implement the changes on a small percentage of the savings. With this efficient service frequency and reduction of pick-up cost and scout fees, you could effortlessly be saving tens of thousands of dollars! So, before you accept things as they are, consider consulting a company with experience in this field.  
The Takeaway  
Now, we know this may have been overwhelming. But we urge you to never lose hope. There are always steps you can easily take to help make the best out of a situation. Be mindful of how your tenants throw out their waste, and be sure to utilize recycling. It's only a few extra minutes but makes all the difference for our future. There is a lot you can do in the house yourself, and third-party options in the waste reduction industry will make sure you aren't getting overcharged and that your trash is in order.  
Of course, this doesn't mean turning a blind eye. Never ignore something just because it is dirty or city-mandated. If you think a charge is unfair, try to get it reversed. If you are seeing consistent late or missed pick-ups, don't hesitate to contact the company responsible for your services. Or better yet, contact the city directly as they are over seeing all companies included in this mandate.  
Similar to a cheesy fairy tale, we think our article deserves a similar ending. Let's all start the New Year by staying safe, recycling our butts off, and saving some well-earned money. Oh! And living happily ever after.  
At Your Trash Solutions, LLC we are proud to not only significantly reduce property spending by supporting waste efficiency but also to offer a helping hand to our community by reducing wasteful dumping in our landfills. Call us anytime at 310.916.9253 or visit us on the web at www.YourTrashSolutions.com.