In the 4½ years since the Great Recession ended, millions of Americans who have gone without jobs or raises in this slow growth economy are asking Is this as good asit gets? It increasingly looks that way.
Two straight weak job reports for December and January have raised doubts about economists' predictions of breakout growth in 2014. The global economy is showing signs of slowing – again. Manufacturing has slumped recently. Fewer people are signing contracts to buy homes. Global stock markets have sunk as anxiety has gripped developing nations. Some long-term trends are equally troubling.
In an earlier article, I wrote about the latest CBO report which concluded that Obamacare will result in the loss of 2.5 million workers over the next decade, as more and more people elect to simply drop out of the workforce rather than lose their healthcare subsidies.
Yet there was other alarming news in the latest CBO report that bears discussing. The Congressional Budget Office foresees economic growth picking up only mildly through 2016, and then weakening starting in 2017 and beyond.
By the CBO's reckoning, the economy will soon slam into a demographic wall: The vast baby boom generation will retire. Their exodus – in addition to the loss of 2.5 million workers due to Obamacare – will significantly shrink the share of Americans who are working, which will hamper the economy's ability to accelerate.
- Advertisers -
At the same time, the government will almost certainly have to borrow more, raise taxes or cut spending (or all three) to support Social Security and Medicare for those retirees.
Former Treasury Secretary LarrySummers and other noted economists have suggested recently that the economy might be in a semi-permanent funk. In November, Summers warned in a speech that the economy is trapped by "secular stagnation." By that, he meant a prolonged period of weak demand and slow growth.
If the United States hasn't already slipped into that period, the CBO predicts it could over the next four years. Again, that's when the retirements of baby boomers would accelerate and start to restrain growth even more.
The CBO estimates that the economy will expand by only 2.7% in 2017 before declining to an average of 2.2% annual growth through 2024. That's even slower than the current anemic recovery has been, on average, so far.
There are no documented examples of an economy that had to emerge from a financial crisis while simultaneously absorbing the effects of an aging population, noted HarvardUniversityeconomist Carmen Reinhart, who has researched eight centuries of crises with her colleague Ken Rogoff. "These things are new," she said.
Many Americans who endured the worst of the downturn remain wary, sensing that the recession caused an enduring economic downshift. Some businesses are still reluctant to hire despite higher revenue. And they're wondering, when will we get back to normal? Historically, "normal" has been when GDP averages 3% or better.
Yet according to the non-partisan Congressional Budget Office, the US economy is likely to remain in the slow lane for another decade through 2024. That is as far out as their projections go.
Finally, I have yet to see anyone in the mainstream media touch any of these troubling long-term projections from the CBO. Certainly no politician is going to bring this up. Yet I believe that my clients and readers want to know these facts, troubling as they are.
91 Million Americans Aren't Looking For Work
The official unemployment rate isn't always the best measure of the job market, because it only includes people who have actively searched for work within the last four weeks. Many Americans just aren't looking for jobs.
New facts from the Labor Department show that about 91 million adult Americans don't work, and aren't looking for jobs. They make up 37% of the population – the highest level on record since 1978. Some of them are workers who've been out of a job for so long that they've given up entirely.
But it's not quite as bad as it looks. In addition to discouraged workers, this group also includes people who are retired, enrolled in high school or college and those staying at home to take care of young children or elderly relatives.
Here is a complete view of the US working-age population, including everyone over age 16. (*Note: "Unemployed" includes out of work people who looked for a job in the last four weeks. Source: Bureau of Labor Statistics).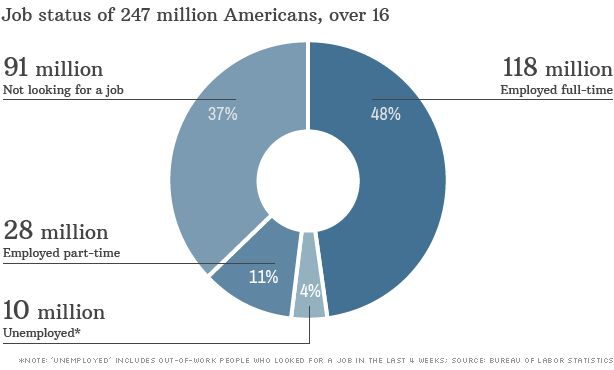 Full-time workers, at 118 million, still make up almost half of the population. About 48% of working-age Americans have full-time jobs, and another 11% work part-time. Historically, those numbers have been considerably higher.
Gary D. Halbert is the president and chairman of Profutures, Inc. Subscription rates for Forecasts & Trends is $197 for 12 issues and may be obtained by visiting his website at www.profutures.com.