In today's competitive world, we ask insurance vendors for bids to insure our investment properties – get the bids back, choose the lowest one and go on with our life.
Unfortunately, buying insurance is more complicated than that. It takes some analysis to make a great choice, and not only do you need to compare vendors you also need to consider the needs of your bank.
Financial institutions are taking a more proactive role in ensuring people choose the correct insurance. In a recent refinance with a large regional bank, they required:[1]
A Lender's Loss Payable Endorsement
Special form extended coverage
No co-insurance clauses
Loss of income coverage
Ordinance and law Coverage
Workers compensation coverage (if you have onsite employees)
Flood insurance (in a flood zone)
General liability with an aggregate liability of no less than $2,000,000 for bodily injury and or death, and property damages no less than $1,000,000
Earthquake deductibles not to exceed $10,000 or 1% of the loan amount
A term of no less than 12 months
They also requested that all requirements be confirmed using insurance forms Acord 28 and 25 before a loan would be issued.[2]  In the past, banks just required insurance coverage – now they want to guide the limits and coverage.
What is Usually Included with Real Estate Insurance?
- Advertisers -
There are many details to consider when purchasing property insurance, including coverage for casualty losses and liability. We will define some of the key issues and explain some of them below:
Casualty insurance includes damage to your buildings and personal property due to fire, storm damage, theft, vandalism and tenant damage. Ideally – your landlord insurance will cover the replacement costs for your entire rental property in the event of a total loss.
Liability insurance protects you against liability claims and lawsuits in the event that a tenant, visitor or even a trespasser is injured on your rental property. Liability insurance covers costs associated with bodily injury claims on your property. These costs can include medical payments, funeral costs, legal fees and judgment or settlement costs.
You will also be covered if you, as the landlord, are found responsible for another person's property damage. For example – if you neglect to fix a leaking water pipe and mold damage destroys a tenant's expensive collection of vintage albums, a liability claim can be filed against you by the tenant. Additionally, legal claims can result from a range of causes, including slips and falls, property damage from leaky pipes and break-ins. Landlord liability insurance also covers the cost associated with your legal defense, whether you are found to be at fault or not.
Coinsurance Clause
Banks are encouraging good insurance choices.  With a recent refinance with a regional bank, we were told that the co-insurance clause (part of many current insurance policies) was not allowed if this bank granted the loan. (As you probably already know, many insurance companies first offer you insurance with a co-insurance clause included.  They will remove the clause if you inform them that the bank will not issue a loan with the co-insurance clause.)     
So, What is a Co-Insurance Provision?
It is "a property insurance provision that penalizes the insured's loss recovery if the limit of insurance purchased by the insured is not equal to or greater than a specified percentage (commonly 80 percent) of the value of the insured property."
"Coinsurance in property insurance is a means for insurers to obtain rate and premium equality. Property insurers must have a standard in which to apply expected losses based on past loss experience over an entire underwriting book. This is accomplished by getting the exposure base (total insured value for building, contents, and business income) on a common basis for all property insurance insureds: replacement cost, actual cash value, and actual loss sustained. Rates are applied against a specified percentage (100, 90, or 80 percent, for example) of the value to the insured: building, contents, or business income."[3]
The bottom line is that you don't want to buy property insurance with a co-insurance clause.
Valuation
Most important is that you insure your property for the correct value.   You may have gotten a good deal on your purchase and believe the estimated worth of your property to be at $680,000, but an insurance company might tell you that your property insurance should be valued at $1,282,000 (see our example attached) due to the increases in current construction costs. Additionally, you to need to make sure you have guaranteed replacement cost and ordinance language included to be able to rebuild your property after a loss to meet current code requirements.
Other Important Issues
You can reduce the cost of your insurance premium by increasing your deductible. Deductibles act as self-insurance. In most cases – depending on the size and income of your investment – you can tolerate some level of self-insurance, unless you are in a weak cash position.
Investors also need to need to consider the amount of insurance your bank and your property manager require.
The larger the investment, the greater the risks – and the higher the amount of insurance you will need. Typically, you want no less than $1,000,000 per occurrence and $2,000, 000 in the aggregate.
Loss of Rental Income
Loss of rents coverage is critical to all real estate investors, and it is also called out in your loan documents. Some insurance policies are capped, others will extend to the actual loss sustained.  Why is this important? It depends on the type and length of loss you incur.  If you have a partial loss at a property, you probably can get a contractor to rebuild within 12 months.  But if you have a total loss, your reconstruction could take significantly longer, and you will need the loss of rents to extend until your investment is completely rebuilt and has received a new certificate of occupancy.  Loss of rents income helps you pay the mortgage payments and take care of property bills while the property is being reconstructed.
More Miscellaneous Insurance Issues
Other issues that come up as you ask for insurance bids for your real estate investment property include:
Medical expense limit per person
Terrorism coverage
Pipe breaks and sewer backups – included or excluded
Mold, fungus – included or excluded and what the limits are to this coverage
Law and ordinance coverage – for properties located in non-conforming zoning
Flood insurance
Earthquake coverage
Cost and AM Best Rating
Finally, as we all know you want the most coverage at the least cost. At the same time, you need to consider the financial strength of the company you are insuring with. You can usually find information regarding coverage history for each company on the internet.  You can also log into the AM Best rating agency to access the financial strength of every insurance company.[4]
Summary
Unfortunately, buying insurance for your investment property is not simple and takes a significant amount of due diligence on your part to make sure that you get the coverage you and your financial institution are satisfied with. To aid in your decision-making process, we have included a sample check list with an example of different insurance coverages for a real property.
This might help you as you compare coverage by multiple companies – we recommend receiving bids from at least three.
Insurance Checklist Form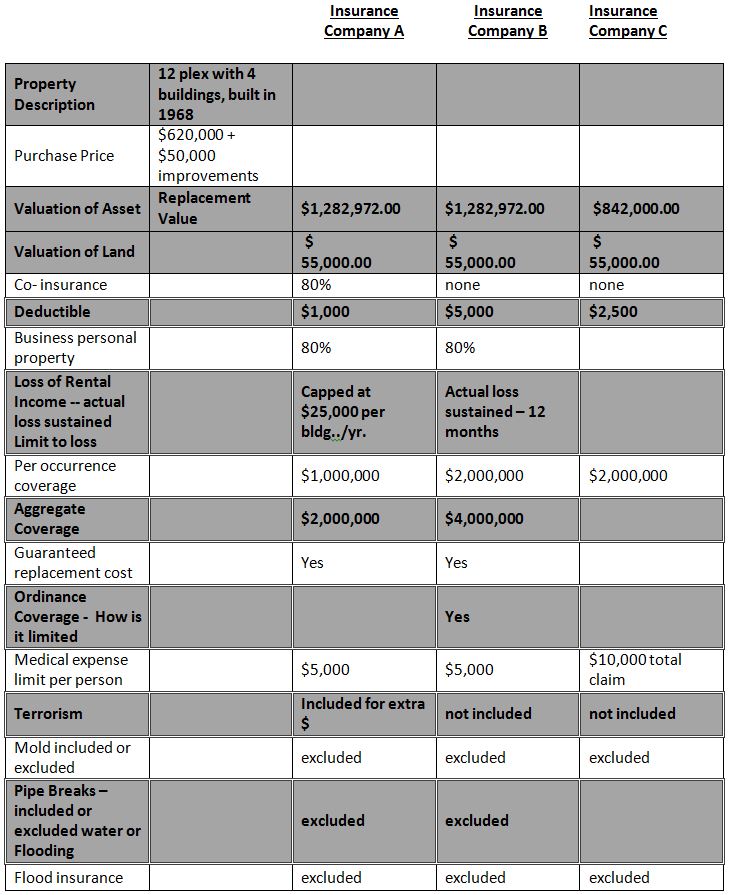 If you want a blank copy of this form, you can log into our website at www.bluestoneandhockley.com.
[Editor:  Be sure to check with AOA's Group Insurance Plan and discover the savings you deserve!  Call (800) 827-4262 for a free "money-saving" quote.]
Sources
[1] http://www.svnbluestone.com/wp-content/uploads/2017/09/Insurance-Requirements.pdf
2  https://www.5starsp.com/toolsandapplications/forms/acord/28.pdf
3 Source: (International Risk Management Institute)https://www.irmi.com/articles/expert-commentary/property-insurance-coinsurance
4 www.ambest.com
Clifford A. Hockley is President of Bluestone & Hockley Real Estate Services, greater Portland's full service real estate brokerage and property management company..  He is a Certified Property Manager and has achieved his Certified Commercial Investment Member designation (CCIM).  Bluestone & Hockley Real Estate Services is an Accredited Management Organization (AMO) by the Institute of Real Estate Management (IREM).