What a difference six months make! During the summer, California zoomed to a $600,000 median price. I had been surprised that prices moved that quickly and had passed the previous highs set in 2007. Over the past six months, prices have softened along with sales volume. What was once at $600,000 in mid-summer turned to a median sales price in December of $557,600.The media is having a field day with how terrible the decline has been. How unusual is a price decline from summer to winter?
For the last seven years, prices peak near August and hit a low near February the following year. This chart reflects November's median price for 2018; showing a 7% decline from the peak in August 2018. As you can see, seasonal declines are very common forCalifornia. In fact, the declines are usually steeper than what happened in 2018. From 2014-2016, the declines averaged 10% in between August and February.
- Advertisers -
Peak to Peak
This chart below shows what happened to year-over-year peak price for the California median sales price. Here we have mostly gradual price progression.
Trough to Trough
The below chart shows what happened to trough price year over year. The progression of median price is a bit more aggressive; rising above 8% the last few years. What will be significant is what happens between now and summer of 2019. If prices are going to get soft, you will start seeing year-over-year prices get very close or invert. If prices are going to head back over $600,000 again, you will see the year-over-year price maintain a similar margin as in past years.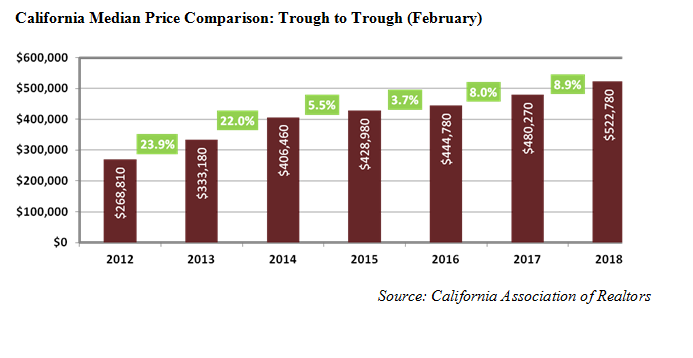 Sales
The other chart that is very unusual is the chart showing the number of sales.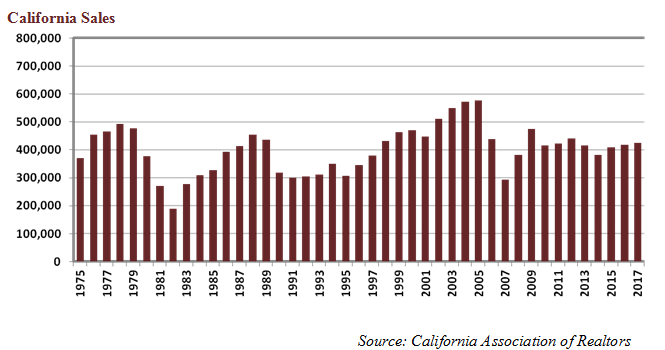 The number of year-over-year sales has declined considerably. In December of 2018, sales were 420,960. In December of 2018, sales were down to 372,260 or 11.6% from the previous year. That's a sizeable drop in sales.
But something bigger has happened this cycle. A normalCaliforniacycle has four boom years of sales. We boom in sales because people get excited about owning their own home. Sometimes that excitement drives prices to the brink of a repetitive affordability barrier of 17%. But not this time!
We have very reasonable interest rates at under 5%, a 4% unemployment rate and almost zero competition from short sales or lender-owned properties. In every other boom cycle, prices and sales soar. Our sales never soared this cycle; not even close. Now, they are declining.
What is Making This Cycle Different and Are We Going Back Down in Price?
That's what we'll talk about when I speak at AOA's Trade Show and Landlording Conference on April 17th at the Long Beach Convention Center.   Hope to see you there.
Bruce Norris is an active investor, hard-money lender and real estate educator. A talk show host in his hometown of Riverside, Calif., Norris is a frequently quoted in financial publications and a speaker at investor club meetings throughout California. His studies provide the statistics that substantiate his predictions. Bruce currently serves on the Executive Board for the Real Estate Research Council of Southern California. and was awarded Educator of the Year by Think 
Realty in 2018. More information about Bruce Norris, his research and his investment seminars are available at www.thenorrisgroup.com.