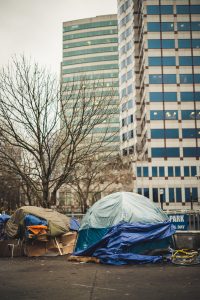 Below is an excerpt from the Monday Morning Quarterback from June 26, 2023.
Adding Affordable Housing Is 'Essential' to
Fixing California's Homelessness Crisis
The main barrier to fixing California's homelessness crisis is the massive shortage of affordable housing for people with very low incomes, and fixing that is "essential" to solving homelessness, according to a major new study of unhoused Californians. That's the top recommendation from the study from UC San Francisco and billed as the largest representative study of homelessness in the nation in 30 years.
The year-long study surveyed 3,200 unhoused people across the state, 365 of whom were interviewed in-depth. Using statistical analysis, researchers sought participants who would represent the state's overall unhoused population. "People were making less than $1,000 a month for their whole household in the months before they became homeless, and they just couldn't keep up with the housing costs," according to the university's Benioff Homelessness and Housing Initiative. As of this year, California has "only 24 units of housing available and affordable for every 100 extremely low-income households," the study notes. That's a shortage of about 1 million units. "This is going to take the involvement of every level of government," including local governments rethinking zoning rules that have limited construction of new housing. In a statement, L.A. Mayor Karen Bass says the report is an opportunity "to see the diversity in the population of those who are unhoused," and that she hopes it creates a sense of "urgency" to create housing and services to deal with homelessness. Here are some of the other key findings:
- Advertisers -
The state's unhoused population is overwhelmingly Californian. Ninety percent of people reported losing their last housing in the state.
California's unhoused population is aging; nearly half of adults experiencing homelessness are over the age of 50. And almost half of those individuals had never been unhoused before age 50.
The unhoused population is disproportionately black, brown and i
Almost three-quarters reported experiencing physical violence in their lifetime, and about one-quarter reported experiencing sexual violence. Sexual violence was more common among cisgender women (43%) and much more common among transgender or nonbinary people (74%).
Nearly half of unhoused people reported they were looking for work.
A large majority (82%) "reported a period in their life where they experienced a serious mental health condition," with slightly over one-quarter reported being hospitalized for a mental health condition.
Judge Removes Seven Buildings From Troubled Receiver's Portfolio
A Los Angeles County Superior Court judge approved a deal Thursday to remove seven buildings from a troubled receivership tasked with stabilizing 29 buildings formerly managed by the Skid Row Housing Trust. At the court hearing in downtown L.A., Judge Mitchell Beckloff grew increasingly frustrated with the responses from court-appointed receiver Mark Adams, who has faced questions about his suitability to rehabilitate these sensitive properties. Adams argued that moving the seven properties into the hands of the National Equity Fund, a housing nonprofit, could harm his ability to raise much-needed operational funds. He said the receivership is "starving for cash," and reducing the number of buildings he could offer to potential lenders as collateral would make fundraising more difficult. Adams said his company California Receivership Group, Inc, which he uses to run the receivership, has just $336,000 in its accounts, and that it has to pay $1.7 million to cover security services for the next two weeks at its low-income housing buildings. If those security bills aren't paid soon, Adams told the judge, "There are people threatening to walk off the job." But L.A. Deputy City Attorney Alia Haddad supported the judge's decision, saying the receivership has "become a quagmire." She noted that more than two months since Adams took over, 19 of the 29 buildings are still on "fire watch" because inspectors have not found functioning fire alarms in the properties. Adams said in a court filing that fire repairs have been carried out in several buildings so far. In order to meet the receiver's immediate operational funding shortfall, Beckloff approved Adams to seek a $2 million loan from banks or other investors with interest rates as high as 15%, if the city can't deliver $2 million by tomorrow in order to fund payroll and security services for the next two weeks.
Existing Home Prices Suffer Largest Drop Since December 2011
Sales of previously-owned homes in the U.S. rose slightly in May amid a shortage of homes for sale and high mortgage rates, but the median price for an existing home fell 3.1% (the largest drop since December 2011). Sales of existing homes in the U.S. increased 0.2% to an annualized rate of 4.3 million in May, the National Association of Realtors (NAR) reports. (That's the number of homes that would be sold over an entire year if sales took place at the same rate in every month as it did in May.) Compared with May 2022, home sales were down 20.4%. The median price for an existing home fell 3.1% from last May to $396,100 this year. The drop is the largest since December 2011, when home prices dropped 3.9%. Home prices have dropped for the fourth month in a row on an annual basis. They peaked in May 2021, where they grew 25.2% annually. The number of homes on the market rose 3.8% in May to 1.08 million units. Believe it or not, that's the lowest number of homes (particularly single-family homes) that have been on the market during the month of May, since the NAR began tracking data in 1983! Homes listed for sale remained on the market for 18 days on average, down from 22 days in April. Last May, homes were on the market for just 16 days. All-cash buyers made up 25% of sales. The share of individual investors or second-home buyers was 15%. About 28% of homes were sold to first-time home buyers. In other words, the housing market is broadly recovering, but it's a slow recovery. Buyers are accepting the new reality of mortgage rates above 6%, but the market is still hampered by a serious shortage of homes for sale.
After practicing law for 35 years (specializing in real estate litigation), Lloyd Segal was
elected President of the Los Angeles County Real Estate Investors Association ("LAC-
REIA") in 2017. LAC-REIA is the oldest (1996) and largest investor group in California.
Lloyd is an author, investor, mentor, public speaker, and LANDLORD. As president,
Lloyd conducts Basic Training Real Estate Boot Camps (8-hour intensive). "Everything
you ever wanted to know about real estate investing, but were afraid to ask." To
register, visit www.LARealEstateInvestors.com.