The 2017 American Renters Survey was conducted by Buildium from April 18 – 29, 2017 and had 1166 respondents. The survey responses were a random sample commissioned from Market Tools.  The survey had an incidence rate of 94% with a 95% level of confidence and a margin of error of +/- 3%.  The respondents were from all over the United States with the largest group (22%) from the Pacific Northwest.
Amenities Worth Paying Higher Rent For
Once again, in-unit washer/dryer and central air were at the top of the list of things renters said they would pay more rent to have. They also said they'd pay more for a rental that permits pets, and to live in a nice neighborhood. In fact, when looking for a new rental, "location" topped the list of considerations at 81%, edging out "rent" by just a couple of responses. Runner-ups were "a safe neighborhood" (73%), "appearance and cleanliness" (69%), and "floor plan, rooms, and layout" (58%).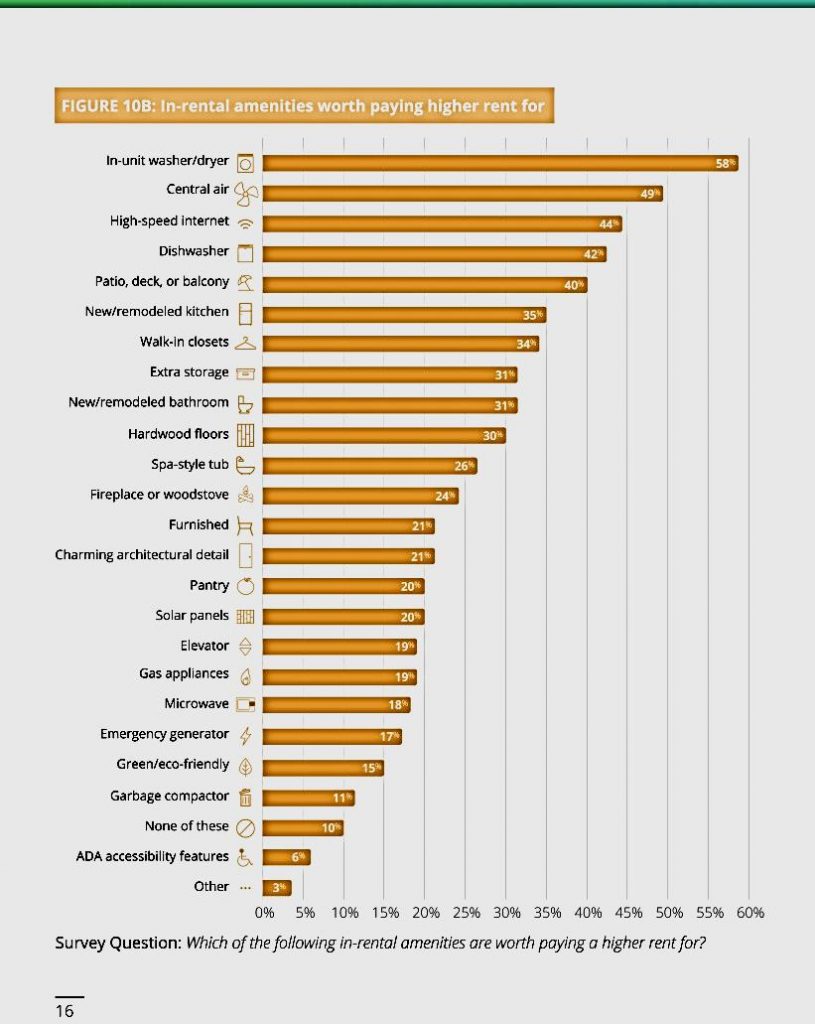 - Advertisers -
Moving vs Staying
When it comes to moving out vs. staying, location continues to play a significant role. We asked tenants, anecdotally, to tell us why they are considering staying or leaving their rental, and why they love their rentals (Table 1). By far, the biggest consideration in staying was environmental, with location topping the list, followed closely by relationships with neighbors. General inertia and a dislike of moving was the third most popular answer – which at first might seem underwhelming, until you consider that those tenants are yours to lose, and are generally easy to keep satisfied. Rent and amenities rounded out the reasons why tenants stay.
When it comes to why tenants leave, the top reasons that we saw are somewhat out of a property manager's control. Life changes such as getting married, growing a family, graduating, changing jobs, or moving out of the area were most common among tenants who said they plan to leave. Rent increases were the second most common reason, with tenants reporting an aversion to frequent or steep hikes. One tenant reported a 20% increase in rent. Purchasing a home – another factor out of our control, was the third most common answer, but the next frequent reply was again about the quality of the neighbors and neighborhood. Bad neighbors, high drama, noise, and conflict all appeared on that list. The least common answers had to do with
dissatisfaction with the unit itself, or with the quality or lack of amenities.
Consider one tenant's harrowing response to this question: "My apartment forces us to buy cable, yet they won't fix the coax outlet in my apartment. I tried to fix it myself but it's not just the outlet, it's the wiring in the wall. So I'm paying an extra $100 for nothing. My tub had been leaking since I moved in; they said I have to deal with it. The apartment smelled of mildew when I moved in, they said the neighboring apartment flooded but it was being taken care of, after I moved in I realized my whole carpet smelled of mildew. There's a huge hole in the ceiling I've reminded them of multiple times. Took them five months to fix my dishwasher (the contractors just put the tubes on backwards). Cockroaches -I'd like to move but can't afford to."
Property managers can definitely ameliorate these negative feelings by being responsive. Amenities will go a long way to making happy tenants, but an apartment that seems satisfactory at lease signing can quickly turn sour due to a lack of responsiveness.
TOP 5
CONSIDERATIONS
WHEN CHOOSING A
RENTAL
1. Location (81%)
2. Rent (81%)
3. Safe neighborhood (73%)
4. Appearance & cleanliness (69%)
5. Floor plan, rooms, layout (58%)
WHY TENANTS STAY
• Location/ neighborhood
• Quiet, good, friendly neighbors
• Inertia
• Reasonable rent
• Layout & amenities
WHY TENANTS LEAVE
• Life changes
• Rent is too high or increasing
• Purchasing a home
• Bad/loud/combative neighbors
• Size, amenities, & conditions
METHODS OF LOCATING NEW PLACES TO RENT
Zillow – 45%
Google – 43%
Word of Mouth / Friends/Family – 38%
Craigslist – 37%
Rent.com – 33%
Trulia – 24%
Local Newspaper or community websites – 22%
Apartment List – 21%
See the full report at buildium.com/resource/2017-renters-survey